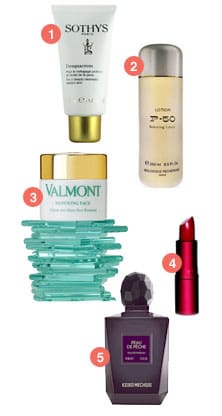 "Look amazing in just a few minutes! Primping for a holiday party should be easy, to achieve that effortless look. Go from daytime to glowtime. With the right products you can create glowing skin easily."

1. Sothy's: Focus on proper cleansing with a product like the Deep Pore cleanser from Sothy's.
2. P50: Follow with a great exfoliation, P50 (contains lactic acid) is like a facial in a bottle!
3. Renewing Pack: A quick self massage with Renewing Pack which is loaded with moisture to combat dryness, increases circulation and plumps the skin.
4. Lipstick Queen: For a relaxed look wear a loose chignon and bring the glamour back to the lips with red lipstick by Lipstick Queen.
5. Peau de Peche: To feel more attractive in an instant wear a fabulous frangrance. I love Peau de Peche by Keiko Mecheri 'A caress of peach skin wrapped in a veil of powdery notes of Orris and Sandalwood'
Beauty Aficionado Founder,