Since opening in New York just a few months ago, Danuta Mieloch's Rescue Spa has managed to attract some of Manhattan's boldest-face beauty names. Pat McGrath is something of a regular—"I appreciate her feedback because she knows a good canvas," says Meiloch—while Glossier founder Emily Weiss has also popped into the airy treatment and retail concept, conveniently located across the street from abcV, chef Jean Georges Vongerichten's plant-based palace in the Flatiron District.
That kind of welcome is due to Mieloch's impressive ability to tone facial muscles, cleanse pores, and curate performance-based product lines—not to mention an enviable word-of-mouth reputation that has followed the Polish-born aesthetician from Philadelphia, where she opened her flagship in 2004. There is something personal—and almost spiritual—about a service at Rescue, which comes directly from Mieloch's own approach to beauty and wellness, that is worth tapping into as New Year's resolutions come and go. Rather than set unattainable skin goals this year, the student of Ashtanga yoga suggests committing to a manageable daily ritual—make that a nightly ritual—with the five "small tweaks," below. Here's to better skin-care habits and a bit of self-love in 2018.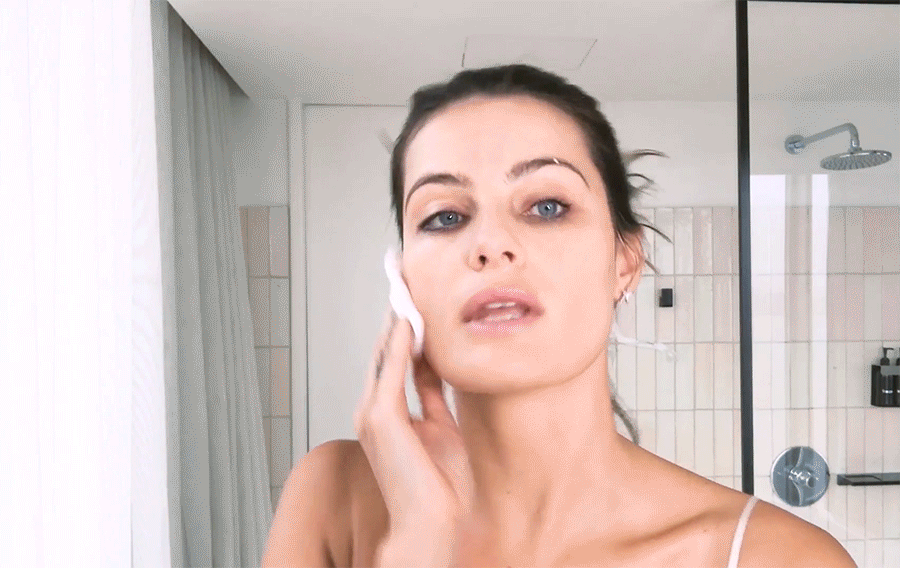 Commit to Double Cleansing
Try treating your skin the moment you get home from work, rather than waiting until you get ready for bed, suggests Mieloch, who begins her routine by slipping into some loungewear and double cleansing. "Thorough cleansing for me is a religion," she says, recommending a massage with a mild milky cleanser, such as Biologique Recherche Lait U, to remove dirt and grime—and to create a moment of intimacy by releasing tension with touch. Remove with a warm washcloth, and follow with a second, heavier cleanser, such as Valmont Face Scrub.
Get Serious About Exfoliation
Exfoliation is an "essential prep step for everything that follows," insists Mieloch, who has been preaching from the gospel of Biologique Recherche Lotion P50—a pore-clearing tonic containing lactic and salicylic acids—since the late '90s. "I apply it with a cotton pad in sweeping upward movements to increase circulation," she says.
Alternate Your Serums
It's important to switch up your serums so you are giving your skin concentrated treatment ingredients on some nights, and concentrated nourishing ingredients on others, advises Mieloch. To help build collagen with active antioxidants, she recommends Environ Vita Peptide C-Quence Serum 1, which is packed with vitamins A and C, while Valmont Dermo-Structuring Master Factor III treats dehydration that is often caused by hormonal imbalances. "I also love Medical Beauty Research Liquid Surgery Serum," Mieloch says of the German brand that recently debuted at Rescue Spa. "It's like the Rolls-Royce of formulas," she enthuses of the lightweight fluid that tightens without drying.
Make Your Mask Count
#Masking may be all the rage on Instagram, but there are masks, and then there are masks, insists Mieloch, who indulges in a curated selection of these deep treatments twice a week. "This is medical-grade collagen!" she says of Valmont's "concentrated, not goopy" Regenerating Mask. She also recommends Biologique Recherche Crème Mask Vernix, named for the waxy and protective coating that babies are born with on their epidermis. "I call it a second skin," she says of the creamy, lipid-rich salve.
Respect the Mind-Body Connection
The last step in Mieloch's New Year's ritual has nothing to do with ingredients or application techniques. "Most important, we need to manage our time with technology," she says. Try turning off your cell phone when you get home at night and leaving it in another room until you wake up in the morning, she advises: "It's the biggest small tweak you can make for yourself—and your skin."