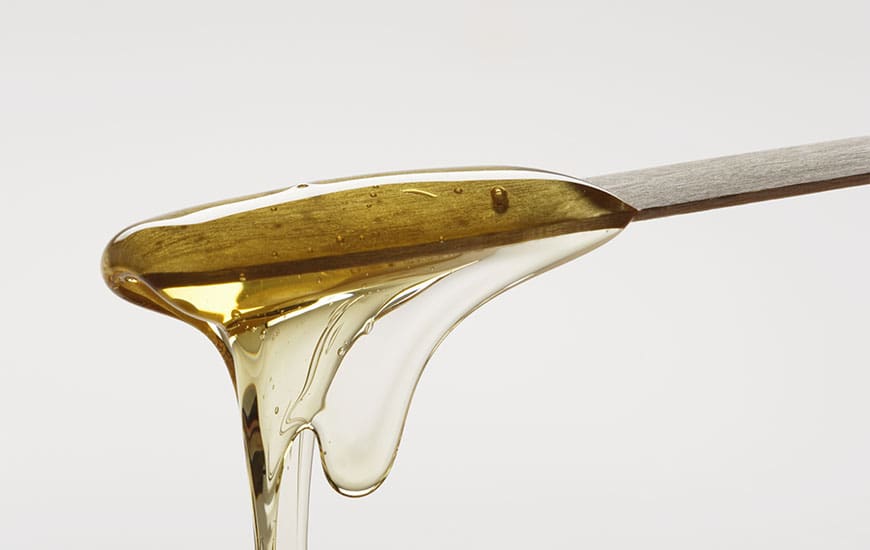 Alright, I admit it. Getting waxed is not my strongest suit. On my life skills list, it falls somewhere in between reaching things on the top shelf and trigonometry. It's not something I'm proud of. I will say, I am half Mexican, first generation, so those roots run pretty deep (puns always intended). The struggle is real for me – every new esthetician that I see asks me what my ethnic background is, because I look like your average white girl until you're up close and personal.
Is this too much information for you already? If so, I suggest you stop reading now, because it's about to get even realer.
My first waxing experience happened on a table in my friend's dorm room, featuring sugar wax, someone who may not have been licensed, and a bucket to catch my tears. Needless to say, I hobbled away bruised to high heaven with a patchy bikini line and a waxing phobia to haunt me for all eternity.
I am so not one of those women who scoffs at waxes, saying "I don't even feel it anymore". I don't think I will ever be such a seasoned veteran, though I envy the lack of nerve endings that must make this sensation possible. Not gonna lie, it hurts, every single time. I get nervous like I'm about to sing the National Anthem at the Superbowl before I go in, and I start sweating through my shirt as soon as I get on the table.
BUT I have learned some tricks along the way that have taken me from trembling baby chihuahua on the waxing table to wincing wonder with a wax in the books every 5 weeks, and they're coming at you live:

1. EXHALE
The power of breathing is a wonderful thing. It works in daily aggravations, child delivery, meditation, etc etc. Not so long ago, I learned this trick that has actually changed my hairless life: When the esthetician is applying the wax, deeply inhale. Right before the strip is pulled, begin a long, steady exhale that continues until the strip is gone. Focus on the breathing and find your om. It really is amazing. I'm not saying "you don't even feel anything!", but it's certainly the closest I've ever come to it.

2. PREPARE
Help yourself out with some ibuprofen or a shot of tequila. It definitely works, no matter what the haters say.

3. IN N OUT
No, not the burger place (not that I'd disagree with treating yourself after a little wax). The greatest gift an esthetician can give, in my humble opinion, is a quickie wax. I was in a bind last week in desperate need of some hair removal. I booked a Lotus Wax with our very own Chrissy Dress, esthetician extraordinaire and fitness guru on the side. I kid you not, this woman had me in and out of her room in 7 minutes flat. That's including dressing, undressing, cleanup, and coaching/entertaining me through it all (her stories can actually distract you from the fact that hair is being ripped out of your tender little body). She was professional, hilarious, and lightening fast, which you know I appreciate most of all.
4. EXFOLIATE
My Mexicanness is real, especially in the ingrown hair department. I've tried all the serums, creams and sticks that my bank account can support, and here's what I've found. You need a one-two punch if you really want to nix the ingrowns for good – exfoliation and prevention (see next). First, grab yourself an exfoliating glove or towel for the shower. If you've got a serious situation downstairs, start by using it daily with your body wash all over. Later on, you can switch to using it twice a week. It's amazing for getting rid of dead skin cells that are trapping the ingrown hairs, leaving you buffed and beautiful. Your ingrowns will start to expose themselves, not to mention the rest of your body will feel like a baby's bottom. Throw it in the laundry with your towels on hot weekly to make sure it's nice and clean.
5. PREVENT
Even though you feel like you're the ingrown exterminator come shower time (just me?), exfoliating is not enough. You need to fortify your efforts with some product to leave on the skin throughout the day or night. I recommend the PFB Vanish, a roll-on gel (no cleanup) that specifically targets screw-shaped hair that winds itself into the skin. Apply twice a day if you're in cleanup mode, or once a day if you're merely trying to prevent ingrowns. This stuff works fast (within 48 hrs) – a trait that I'm into when it comes to body hair maintenance if you can't tell. This also works wonders on the beard area, so le boyfriend can use it too!
6. HELP YOURSELF OUT
Shower. Come in nice and clean. It helps the wax stick in all the right places, prevents bacteria from entering hair follicles, and keeps our estheticians keep doing what they're doing and not switching careers.
Wait until your hair is at least 1/2 inch long (aka a pinky nail's length) to get waxed, otherwise you'll go through all the drama of a wax and walk out still hairy. Wax needs substantial hair to attach to, so grow it a little. If you're a first timer with a hippie situation going on, give the whole region a trim down to 1/2 inch, trust me.
Don't even think about shaving in between!! Put down the razor. Gone are the days of stubble in your nether regions – your hair will grow in slower, finer, and less aggressively all around. The first wax is always the most painful, because the hair is coarse and the roots are deep. As soon as you shave in between waxes, you basically start over. Give yourself (and your water bill) a break and stop shaving!
If you're using feminine washes (which I do not recommend for a host of reasons), beware. They cause the wax to adhere to your skin, not your hair, so be sure to stop the feminine washes at least 2 days before the wax.
Try to get your bikini area waxed in the middle of your cycle. The closer you are to that magical time of month, the more painful it will probably be. If you're in a bind and need that last minute wax before vacation, mentally prepare.
Let me know if you have any additional questions, concerns, fears, or even your own horror stories. I'm always here to talk at lauren@rescuespa.net!
xo Lauren