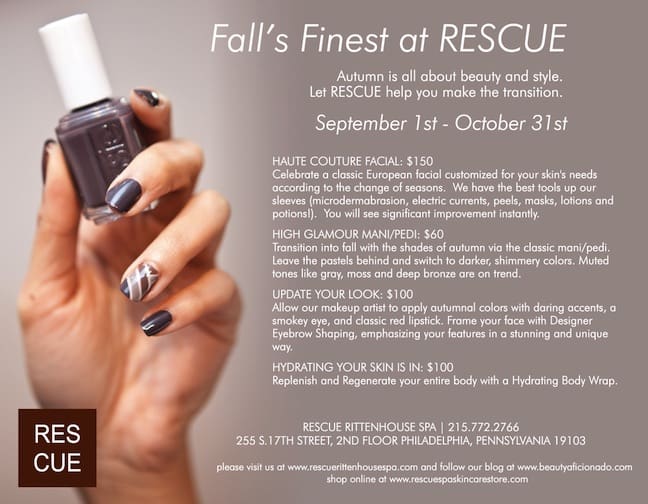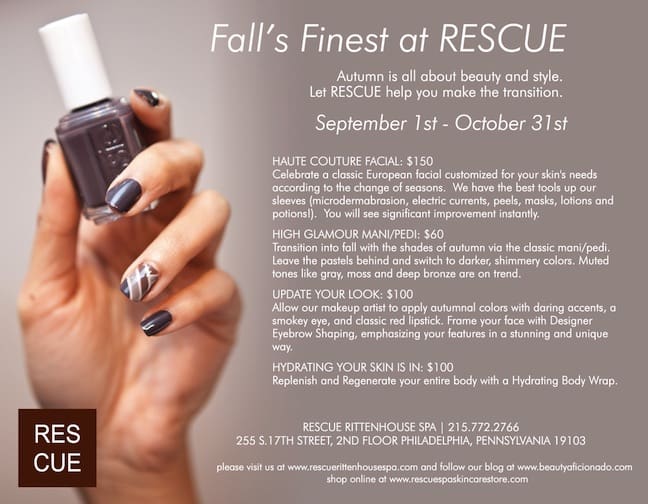 FALL'S FINEST AT RESCUE
Autumn is all about beauty and fashion let Rescue help you make the transition.
HAUTE COUTURE FACIAL: $150
Celebrate a classic European facial customized for your skin's needs according to the change of seasons. We have the best tools up our sleeves (microdermabrasion, electric currents, peels, masks, lotions and potions!). You will see significant improvement instantly.
HIGH GLAMOUR MANI/PEDI: $60
Transition into fall with the shades of autumn via the classic mani/pedi. Leave the pastels behind and switch to darker, shimmery colors. Muted tones like gray, moss and deep bronze are on trend.
UPDATE YOUR LOOK: $100
Allow our makeup artist to apply autumnal colors with daring accents, a smokey eye, and classic red lipstick. Frame your face with Designer Eyebrow Shaping, emphasizing your features in a stunning and unique way.
HYDRATING YOUR SKIN IS IN: $100
Replenish and Regenerate your entire body with a Hydrating Body Wrap.