Establishing a good routine can be hard, so let's go over the Rescue Spa way when it comes to curating a foolproof skincare regimen. The baseline of every Rescue Spa skincare regimen starts with a thorough double cleanse, followed with a toner to prep the skin, the application of targeted treatments and then seal it in with a nourishing moisturizer. The basis of the routine stays the same morning and evening, with some minor adjustments for optimal results. Follow along as we take you through a morning and evening foolproof skincare regimen.
---
MORNING SKINCARE REGIMEN
1. Cleanse
Good morning! Kickstart your morning with a gentle, hydrating cleanse to prep the skin for the day and to help you wake up a little faster!
The perfect hydrating morning cleanser. All you need is a gentle cleanse in the AM to remove any buildup from overnight and this magical multi-purpose balm, safe to use for every skin type. Made from natural active ingredients to promote a radiant, smooth complexion.
Apply on dry skin with dry hands and gently massage. Remove using a damp Dual Washcloth to ensure everything is thoroughly removed.
2. Tone
Yes, you should be using a toner in the morning! This will help to balance the skin's pH, remove any excess dirt, and prep the skin.
D22's natural yet potent formula is packed with acids, minerals, enzymes and vitamins. D22's clean formula is good for those with sensitive skin, pregnancy and those who use retinols. It's a glow-inducing must-have prep-step that works for truly everyone to gently exfoliate, tighten, and unclog pores. Use after cleansing, on a cotton pad gently tapping into the skin in upward motions to promote lifting and boost lymphatic drainage.
3. Treat
This is where you can really hyper customize your routine to target your main skin concerns or skin goals. Step 3 is when you can either apply a targeted mask and/or serums of your choosing.
Biologique Recherche Masque Vivant
"If you use Masque Vivant at least twice a week you'll never age. This unique mask contains live yeast extracts which are packed with amino acids and famously nourishing Vitamin B. There is no product like it to keep your skin purified, revitalized and bright. In my 20 years of experience with it, I have seen it drastically improve many peoples complexions."
– Danuta Mieloch
Biologique Recherche Serum Collagene Originel
An essential serum for anyone looking to stimulate collagen production! Collagene Originel boosts the 4 main types of collagen (I, II, IV, VII) which in turn limits the appearance of new wrinkles and rejuvenates the dermal-epidermal junction.
Biologique Recherche Serum Fluide VIP O2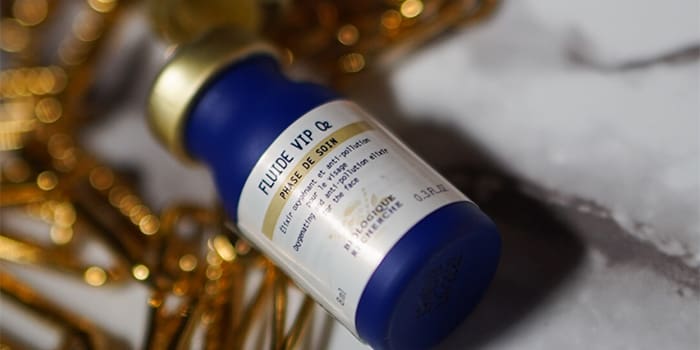 Recommended for all skin types, Serum Fluide VIP O2 is "a must have in my bathroom medicine cabinet. It erases signs of tiredness and dark circles under your eyes. The serum can be used all over your face before or after moisturizing, and protects everyday, giving you that famous, glowing 'Biologique' complexion!"
– Danuta Mieloch
4. Moisturize
Moisturizing is truly a non-negotiable step in your skincare routine. Despite your skin type, daily routine and age, we all need to hydrate our skin!
This universal moisturizer is made to be used by anyone of any age to promote perfectly hydrated, firmed and protected skin. Its unique, natural formula is made from ingredients such as bacillus ferment, neossance squalane and centella asiatica extract to offer all of the nourishing, anti-aging and radiating benefits you need.
5. SPF
Sunscreen is essential.
Elta MD UV Daily Broad-Spectrum SPF 40
Lightweight and hydrating, the UV Daily SPF 40 makes for a great everyday sunscreen option and can be worn alone or under makeup.
---
EVENING SKINCARE REGIMEN
1. First Cleanse
It's time to wind down for the night…Your first cleanse should be with an oil based cleanser, specifically Cerabalm to remove the grime from the day.
Nothing removes build up better than this multi-purpose balm! All you need is a dime size amount for the entire face and watch your makeup and SPF melt away instantly after application. Emulsify with a little bit of water and then remove fully using the Dual Washcloth
2. Second Cleanse
Now that you are ready for your second cleanse, you should be using something targeted for your skin type and providing a more intensive cleanse.

MBR Medical Beauty Research Enzyme Cleansing Booster
The Enzyme Cleansing Booster is an enzymatic powder cleanser booster! This product is recommended as a second cleanse (2-3x a week) either on its own or mixed into your favorite milky cleanse (Lait VIP O2 makes for a great pair). After use, your skin radiates in purity, clarity and appears refreshed instantly.
A little goes a long way with this powerful cleansing gel. Cleansing Complex is a medical-grade cleanser that incorporates a balance of bio-nutrients, antioxidants and mild resurfacing ingredients that thoroughly cleanse the surface and pores without stripping the skin.
*Excellent for blemish-prone skin!
3. Tone
Your night-time toner can actually take on a more active role to target those more difficult skin concerns.
Biologique Recherche Lotion P50 1970
P50 1970 is the most effective and the most commonly used formula of P50, however it is the strongest formula as well. This acid-based toner effectively exfoliates the skin, balances sebum production and maintains the skin's pH.
REMINDER: Application plays a huge role in the overall effectiveness of a product. With Lotion P50, apply using a flat cotton pad with tapping motions in an upward movement.
4. Treat
Similarly with your toner in the evening, the treatment step can also take on a more active role. This is the step where you can work in your retinoids or other exfoliants to target more difficult skin concerns. Be sure to alternate the nights you are using actives/exfoliants with peptide serums to ensure you are not over exfoliating.
*Choose one active treatment at a time
MBR Medical Beauty Research Cross Lift Serum Ultrapeptide
The Cross Lift Serum Ultrapeptide is going to be a multi-regulating intensive treatment. This highly-dosed serum leaves the skin feeling younger, freshing and noticeably smoother directly after application. Alternating nights with the Cross Lift Serum Ultrapeptide and an exfoliant or vitamin A will put your skincare regimen over the top!
BEST RETINOLS:
This is the first step in Environ's step up system. Made up of a high concentration of vitamin A and bovine colostrum to promote healthy-looking skin. You can apply this before moisturizer or mixed in with Cream Supreme for optimal hydration.
*If using vitamin A, opt for the D22 Tonic as your toner
IS Clinical Retinol+ Emulsion 0.3
A nourishing form of retinol the combines a proprietary blend of Bakuchiol, and other powerful botanical boosters and antioxidants to help reduce the appearance of fine lines and deep wrinkles while evening skin tone.
5. Moisturizer
The more hydrated our skin is, the healthier and happier it will be.
Always follow with an intensely nourishing moisturizer like Cream Supreme after using actives. This cream is safe for everyone and anyone will seal in the moisture and protect the skin as you sleep!
Skincare and selfcare does not need to be overly complicated! Sticking to what you know and using products that are made from high quality and effective ingredients will leave you feeling and looking rejuvenated. Treat yourself to an at-home spa day with just a couple products or wind-down with us in one of our spa locations.
---
Shop Beauty Aficionado: