This summer we are focusing all on the gloss when it comes to makeup! No matter what skin type you have, you are guaranteed to have hydrated glossy skin after this tutorial. Our Philadelphia makeup artist Chrissy takes us through the process step-by-step.
Step 1: Skin Prep
Chrissy prepped the skin using D22 Tonic and Cerabalm to brighten and nourish the skin as a hydrated base is key before starting the look! The Ultra Sun Protection SPF 45 Broad Spectrum Primer was a key component of this look; doubling as a great SPF and a primer!
Step 2: The Eyes
Starting with the eyes, Chrissy applied Peau de Rose Liquid Super Loaded to the brow bone.This is a cool oyster pink that reflects beautifully once it hits the light. On the entire lid, Luminescent Eye Shade in Cheetah was used to warm it up while still giving a multi-dimensional shimmer. To open up the eyes, Chrissy used a Deep Chocolate Long Lasting Eye Shade on the lash line to mimic a soft eyeliner.
Step 3: The Skin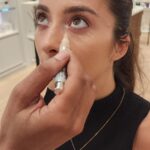 The base of Landen's skin was done using the Westman Atelier Vital Skin Care Complexion Drops in shade number 5. The complexion drops make for the perfect summer foundation since it has the strength of a serum with light to medium breathable coverage. Use as little as 3 drops on bare skin to feel instantly smoother, firmer and healthier! Le camouflage stylo is key for a bright and hydrated under eye! It's velvety smooth texture glides onto the skin leaving crease-free coverage. To keep everything in place all day, Chrissy set the skin with the Perfect Blur Finishing Power in Light/Medium. This has a great long-lasting gel powder formula which is perfect to smooth the complexion, without mattifying the skin. For a natural flush that melts into the skin, she used the Baby Cheeks Blush Stick in shade Minette. For that glossy finish, the Liquid Super Loaded complexion enhancer in Peau de Peche was applied liberally on the high plains of the face. Peau de Peche is a warm nude-peach color that leaves the skin with a "you-look-well" glow!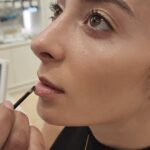 Step 4: The Lips
For the lip, Chrissy used the Lip Definer from Chantecaille in the color Tone to line the lips and the Brilliant Gloss to keep with the glossy look.
To finish off the look and to set everything in place Chrissy did a light mist of the Valmont Priming With a Hydrating Fluid to boost hydration and brighten the complexion!
---
Shop Beauty Aficionado: