Sunscreen should be our number one priority, especially in the Summer, but of course the occasional burn can be inevitable. Despite our best efforts, we might not always be able to utilize our normal sunburn prevention strategies like avoiding overexposure to the sun and wearing sunscreen. As a result, we start seeing the first signs of sun damage – dark spots, uneven skin tone, wrinkles, dullness, etc.
Let's start with the simplest way to relieve sunburn…
How to prevent sunburn?
Hats and sunscreens are a must! The Adam Hat from Eres is a chic and protective way to keep your face out of the sun while dressing up an outfit! Double up on protecting your face with the UV Clear Broad-Spectrum SPF 46. This oil-free formula is not a best-seller for no reason, as it helps to calm and protect sensitive skin. If you are looking for a multipurpose product, the Multimodal Defender SPF 30 from U Beauty will visibly reduce hyperpigmentation, dark spots, provide anti-inflammatory protection and of course provide UV protection!
Best post-sun masks
*Pro-tip: Keep your masks in the refrigerator before application for an added cooling effect! 
Biologique Recherche Masque Visolastine
One of the most important steps to take after getting too much sun is hydrating the skin! Masque Visolastine will immediately boost skin hydration with hyaluronic acid and strengthen the skin's barrier with macadamia oil. Your skin will feel comfortable and restored after that time in the sun.
Biologique Recherche Toleskin (M)
Nothing says sunburn relief like a cold, soothing sheet mask! The Toleskin will immediately calm redness and replenish the skin with fatty acids, leaving your skin healthier, stronger and soothed.
MBR Medical Beauty Research After SUN Cream Mask
Looking for a product to keep in your beach bag? The After SUN Cream mask can be used right after sun exposure to cool stressed skin, balance moisture levels and smooth sun-induced lines.
IS Clinical Hydra-Intensive Cooling Masque
Specifically designed to provide intense hydration and relief to the skin. A pharmaceutical-grade formula made from hyaluronic acid, aloe barbadensis leaf juice, japanese green tea extract and resveratrol. These key ingredients lead to soothed, hydrated and refreshed skin!
What should I be doing for sunburn relief?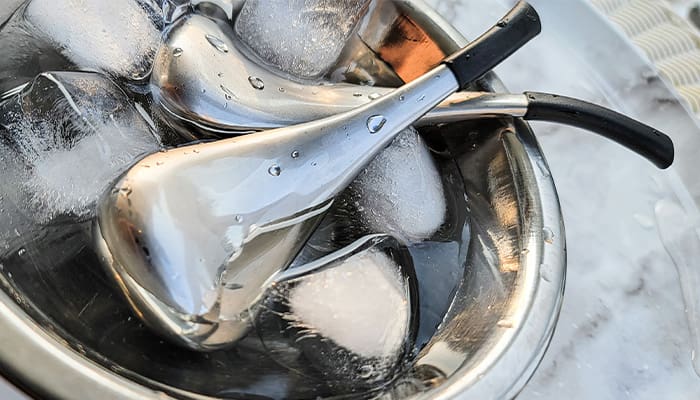 Making sure that you stay cool and hydrated is key! Cryo-Sticks are our favorite way to stay cool and minimize redness. Keep them in the refrigerator or a bowl filled with ice cubes before application. Designed to lower the skin temperature, soothe the skin and even firm the skin!
*Pro-tip: Try using the Cryo-Sticks on top of the Toleskin sheet mask! 
Philadelphia Esthetician, Greta Ikonomi, gave us her go-to remedies when treating sunburn. Growing up in Albania, she would blend a cucumber, keep it in the refrigerator and apply a layer to the burned area. The cucumber brings water to the skin and the cold will remove the heat from the burn. Greta also omits all exfoliating products and will only use water soluble products, such as the Soft Treatment Gel from Future Cosmetics. Made up of active, soothing ingredients to nourish and reduce redness in just 20 minutes.
---
Shop Beauty Aficionado: