I see clients on a daily basis. During the initial consultation I often notice the tell signs of dehydration; dark circles, fine lines, pigmentation and acne are more than skin deep. Great skin is a reflection of what one puts in their body (digestion) as well as how one takes care of their skin.

Proper skin care is very important, here are my recommendations:
1)
Cleanse
gently.
2)
Exfoliate
with the
p50
formula appropriate for your skin type (essential to balance the pH of your skin and to ensure proper hydration).
3) Use a hyaluronic acid serum like
Valmont's hydra3 regenetic
or Biologique Recherche's S
erum Yall o2
to keep skin plump & hydrated and, yes, looking younger.
Babies are born with a high level of
hyaluronic acid
, which keeps their skin plump and smooth. Unfortunately, the amount of hyaluronic acid in skin diminishes with age, most significantly after age 40.  While it's not possible to maintain that perfect dewy baby-skin, it is possible to help restore the skin's hyaluronic acid content and give grown-up skin a younger, fresher, smoother, more supple and hydrated look. Applied topically it increases hydration, improves elasticity and also reverses free radical damage. For those who get injectables hyaluronic acid prolongs the plumping effect.  All skin types, even
oily
, can benefit from using hyaluronic acid serum.
4)
Mature
and
drier
skin types should always apply
moisturizer
to prevent
transepidermal
water loss
and to lock in the moisture .
To maintain optimal hydration we need to focus on proper nutrition and drinking plenty of water. Water is the body's principal chemical component and makes up about 60% of our body weight. All systems and organs in our bodies depend on water. We need water even for healthy bones.  As much as 75% of the body weight of a newborn infant is water, whereas some adults are as little as 45% water by weight.  When you become dehydrated the body pulls water from your tissues (skin) to maintain the concentration in your blood.  When this happens your eyes may look sunken, skin may feel drier it's not going to be as elastic or supple, and so you will look much older.
The first symptom of dehydration is not thirst, it's usually fatigue, feeling tired.
Healing with water is legendary… staying hydrated properly is scientifically proven to be essential.
At Rescue we emphasize the importance of hydration.  We prepare infused water daily and offer it to clients upon their arrival.  We offer two choices that I recommend to everyone to make at home as well:
1) Filtered ionized water infused with orange, cucumber and mint.
2) Filtered ionized water infused with lemon and lime (my favorite beauty booster in the morning).
As for nutrition (Philadelphia has amazing
produce markets
) try to incorporate a variety of seasonal vegetables, fruits, local fish, meats and cheeses.  Avoid processed food, sugars, white flour, soda, and hydrogenated fats to maintain a healthy body and skin.  Focus on incorporating healthy protein, whole grains, skin healthy fats like omegas 3, 6, & 9 from foods like avocado & coconut, as well as probiotics to maintain a healthy digestive system.  A healthy liver is responsible for healthy skin.
Here I'd like to share my "Skin Glow" juice recipe.  I use an Omega juicer, but any juicer will do the trick. 🙂
1 Cucumber
A few sprigs of Parsley
2 stalks of Celery
A handful of Kale
1 Apple
1/2 a Lemon
1 small piece of Ginger
Increase your energy and super hydrate with this simple juice… and don't forget to drink at least eight 8-ounce glasses of water daily!
Esthetician and Owner of Rescue Spa
,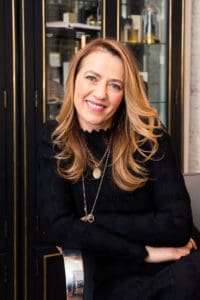 Danuta Mieloch