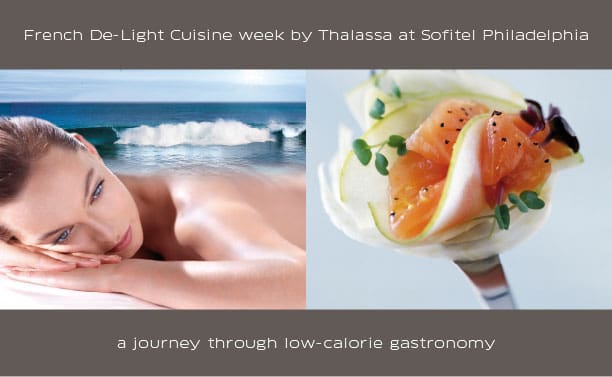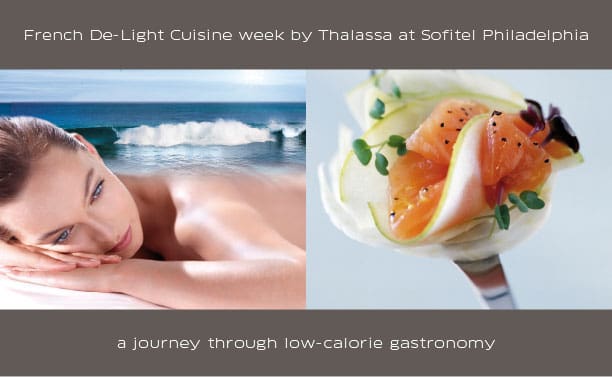 SOOTHE YOUR SENSES WITH A SPECIAL SPA DAY
WITH 333 CALORIE 3 COURSE MENU FROM LIBERTÉ AND TWO SPA TREATMENTS FROM RESCUE RITTENHOUSE SPA
PHILADELPHIA, PA – Beginning Monday, February 21, and continuing through Saturday, April 30, urban-chic cocktail lounge and restaurant Liberté (120 South 17th Street, 215-569-8300) at the Sofitel Philadelphia will partner with Rescue Rittenhouse Spa for a Spa Day, featuring:  a 333 calorie or less, three-course lunch or dinner ($48) from Liberté's new, healthful spa offerings;  a 60-minute Swedish Massage and Salt Scrub at Rescue, the city's top spa, for the special price of $120 per person;  and complimentary Valet Parking at the Sofitel.
"Whether our guests have managed to stick to their New Year's resolutions to take better care of themselves or need a little boost to get back on track, our healthful spa menu and exciting partnership with Rescue make it easy for them to care for their minds and bodies," says General Manager Vincent Vienne.  "And complimentary valet parking makes it a truly stress-free way to indulge."
The spa menu, with all dishes 135 calories or less, was created by Chef Kevin Levett in collaboration with five other Sofitel chefs from France, Canada and the United States.  To launch the program on February 21, Executive Chef Patrick Jarno from Sofitel Thalassa in Quiberon, France will join Chef Levett in Philadelphia and will be on hand for the entire week.
The three courses include a choice of:  Appetizers:  Salad of Globe Artichoke with fromage blanc and diet mayonnaise (80 calories);  Ravioli of Crab and Celeriac with vegetable julienne and sauce Americain (92 calories);  or Smoked Salmon Papilotte with poached egg and diet sabayon (135 calories);  Entrees:  Sauteed Hen Chicken with braised mushrooms, steamed vegetables and chicken jus (92 calories);  Braised Sea Bass Filet with tomato-fennel compote and balsamic reduction (98 calories);  or Monkfish Casserole with lobster sauce (98 calories);  and Desserts:  Mango Fondant with coconut sorbet (88 calories);  Vanilla Panna Cotta with raspberry coulis (88 calories);  or Sweet Potato and Chocolate Sponge (100 calories).  For those who are not taking part in the Spa Day, the three-course menu is available $48 per person.
Rescue Rittenhouse's combined 60-Minute Massage and Salt Scrub includes:  a Swedish massage, the timeless style that incorporates long, flowing strokes to encourage relaxation, lymphatic drainage and detoxification;  and a soothing, smoothing body buff that exfoliates and hydrates, hitting all of those hard-to-reach spots for a head-to-toe glow.
Liberté's new spa menu is inspired by European wellness brand Thalassa Sea & Spa which is owned by Sofitel's parent company.  Thalassa harnesses the intrinsic healing powers of seawater and promotes balanced nutrition; in a playful twist on their ocean-inspired principles, the spa menu features pristine, fresh seafood and vegetable dishes that are low in calories and ideal for guests looking for a new way to eat well, whether staying at the hotel or living in Center City.
Rescue Rittenhouse is Philadelphia's premier spa and skin care center.  Owned and operated by Danuta Mieloch, a gifted esthetician with more than 20 years of experience at exclusive spas from New York to Paris, the spa is frequently honored with "Best of" nods from both local and national media, from Allure to InStyle to Frommer's Travel Guide.  In their 2010 "Best of Philly" issue, Philadelphia magazine