Rescue Spa, the urban oasis, is revolutionizing the way in which we define wellness.
After a long hard day of work, Rescue Spa is the urban wellness retreat we all need. Clients will find a warm and spacious environment with transformative treatments for face, body, hair, and nails, combined with an expansive luxury retail boutique. Paradise is a five-star, one-stop-shop for all your beauty needs. With the Philadelphia location currently maintaining a four to six-week waiting list, clients old and new are encouraged to call soon to get their desired appointments.
I understand you have a background in science, studying skincare as a nurse.
Can you explain what initially drew you to this field?
I've always been interested in finding a cure for anti-aging and improving the skin. It is the first thing I notice when I look at someone, their skin. Some people look at the eyes or hair… but the first thing I see is skin! Unfortunately, I might forget your name, but I'll always remember your skin. As funny as that sounds it is the truth!
How is the Rescue Spa different from any other spa?
Rescue Spa is a culmination of all of my experiences going back to childhood. Every experience I've gathered led me here. RescueSpa grew out of necessity. The other spas and facilities were lacking either equipment or products (or both). So I decided to do my own thing and bring the best products and treatments in the world under one (now two!) roof.
What is one of the most rewarding aspects of your job? What is one of the most challenging?
I truly love what I do so I never feel like I'm working. Each day is a mission! My job is always super pleasant because I get to make people feel better about themselves. No challenges. I don't see things that way, I only see opportunities for improvement.

What are some major changes you've seen in the skincare industry during your tenure?
Skincare has become mainstream in the last decade. Fifty to twenty years ago I still had to convince women to trade their bar of soap for a real good gentle cleanser. These days everyone is aware of ingredients: hyaluronic acid, retinol, etc. are commonplace. The language of skincare is well known now and to hear that someone is getting a facial is not just considered a luxury anymore. People realize that it is so much more than that. Just like the fitness movement in the 1980s-90s the self-care and skincare movement has established it's place in our everyday lives. Like the restaurant world has foodies, we now have "beauty junkies"!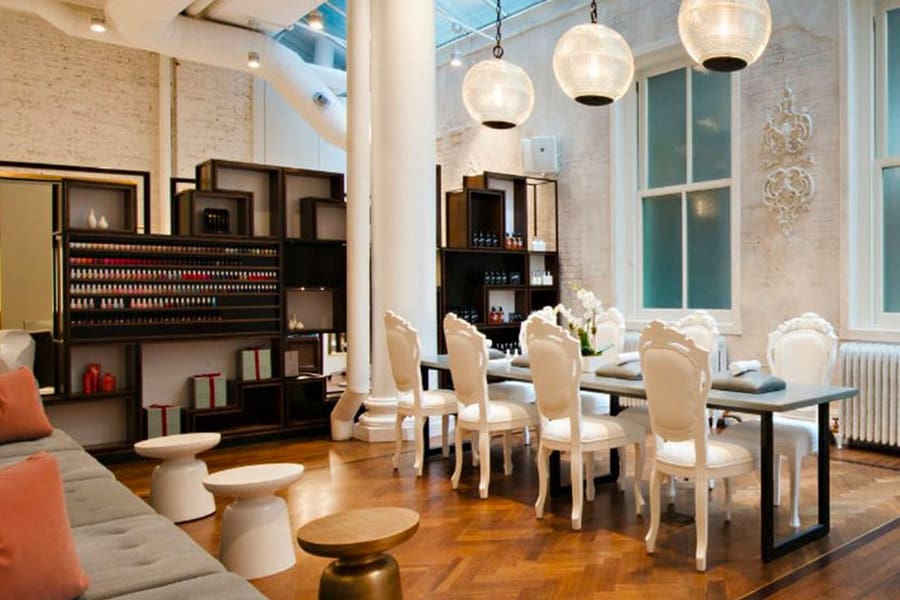 Can you elaborate on why the Biolift facial is so groundbreaking?
The Biolift Facial is supremely comprehensive and it addresses all skincare needs. It's not a trend, it is a tried and true treatment that has withstood the test of time. I have been performing the Biolift Facial for over 15 years. Now our clients can maintain the benefits between treatments at home with electric current gadgets such as the ZIIP or NuFace. Micro currents are super lifting! Everyone needs a lift! The Biolift Facial offers a lift of spirit through massage, and a lift of the entire face via micro-currents with the knowledge of our estheticians. They are trained (by me) to know the face, where the muscles attach, and they can do incredible work in just one hour!

What is one piece of advice you could offer to people about taking care of your skin?
Consistency is key! I cannot stress enough how important double cleansing is, especially at night. In addition to this a complete skincare regimen and diligence in exfoliation, applying serums, masks, moisturizers, and SPF over the years makes an incredible difference. The results are cumulative. It all goes back to consistency!
How did you decide to open spas in Philadelphia and New York? Any places coming up next?
I love the east coast and before opening a spa in Philadelphia I used to live in NYC, the mecca for fashion and beauty. I am drawn to the energy and people, and I love the location.
Right now we are focusing on the two existing locations and are reaching out to a further audience through our online store, social media, and YouTube videos. New York City and Philadelphia are two cities worthy of a visit no matter where you live! If you have the chance come see us! If not we are always available for complimentary skincare consultations via telephone 1.866.772.2766, email shop@rescuespa.net, live chat on shoprescuespa.com, and Instagram DM's @rescuespa.

The Bio-Lift facial was named Best of New York in 2018 by several publications. Can you tell me how it felt to receive that honor?
It is a dream come true! I have been doing this facial for such a long time, that to get the recognition it deserved was incredible. This treatment has so many devotees because it is super special. In my honest opinion, it is the best facial out there… right next to the Fix-It All Facial.