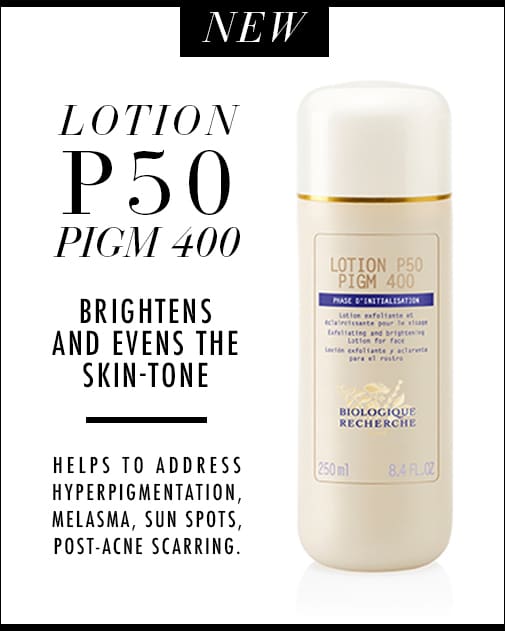 Like a Facial in a Bottle!
Lotion P50 PIGM 400 is an exfoliating and brightening lotion that is ideal for dull complexions with hyperpigmentation and dark spots.
"A cult favorite, P50 is a magic potion that does it all. Exfoliates, Hydrates, and Balances the pH of the skin, it's a prep step before any skincare." – Danuta Mieloch
It enhances epidermal renewal and helps regulate melanin synthesis while respecting and protecting the skin. This is a complete solution that helps to recover a luminous and radiant skin with an even and lightened complexion. Removes dead cells and impurities on a daily basis. Enhances epidermal renewal. Lightens the skin, reduces the size of pigmentation marks and prevents them from appearing. Inhibits melanin synthesis. Improves the strength and quality of the epidermis. Unifies and brightens the complexion. Balances pH on the skin's surface. Improves the efficacity of the other Biologique Recherche products used after it.
What is the connection between PH and good skin?
Epidermal PH is usually acid reflecting the good status of the natural moisturizing factor, and the acid mantle of the skin (anti-microbial shield and chemical protection screen). However, the epidermis PH may vary considerably during the day, suffering from different artifacts. Epidermal surface PH is difficult to monitor and not always the best parameter for assessing the health of epidermis.
What makes the skin tingle when using P50?
When the epidermis is unbalanced, patients feel the acidity of the solution, causing the skin-tingling sensation. Once you reach a balance, this sensation will disappear.
What is the meaning of the name P50? 
The P can be used for potion or peeling (the first name of the product was Lotion P1970, then P50, P50V, and P50W were developed).
PARABEN FREE
Size:  (Travel) 1.07 oz / 5.1 oz. / 8.5 oz.
Featured in NY Times and Huffington Post
We recommend P50 while pregnant or breastfeeding. Please consult your doctor if you wish to continue using P50 1970 while pregnant or breastfeeding.