As we age, our body's production of collagen begins to decline. While it is well known the effects that this has on the skin, many do not realize that this also affects the structure and volume of the lips as well. Using targeted, regenerative lip treatments is an important step to reducing deep lines and wrinkles around the lip area. These lip treatments will keep the lips looking smooth, plump, and restored! Maintain your pout with our curated selection of anti-aging lip treatments and devices!
Lip Masks
Lip masks are the perfect way to get plump, full, smooth lips and unlike regular skin care masks, you can use them daily to sustain those effects. Use them after your favorite lip scrub and you will have the perfect pout.
Best Lip Mask 2023
BIOLOGIQUE RECHERCHE
LIFTKISS
Enriched with repairing active ingredients, this pre-soaked biocellulose mask promotes effective skin regeneration and has an immediate plumping effect providing suppleness and volume for fuller lips.
Hydration
Dry lips are a common concern, but luckily easy to treat! Pamper your pout with luxe, reparative treatments to prevent chapped lips before they begin!
Best Hydrating Lip Treatments 2023
MBR
PERFECT LIP ID
An everyday lip balm that will minimize signs of premature aging. Its active ingredients help to visibly reduce lines and wrinkles, tighten lip contours and provide the lips with long lasting moisture.
VALMONT
PRIME LIP REPAIR
Lip care treatment that fights dry skin, improves skin elasticity and regenerates lip skin. Effectively fights lines and wrinkles around the mouth by hydrating and plumping the lips.
U BEAUTY
THE PLASMA LIP COMPOUND
A transformative treatment that offers enhanced volume, improved texture and instant locked-in hydration. Now available in four flattering shades- Universal, Rose, Fawn, and Cassis.
High-Tech Devices
Skincare devices are nothing new to the industry, but the focus on creating effective devices that cater specifically to the lip is an exciting new development!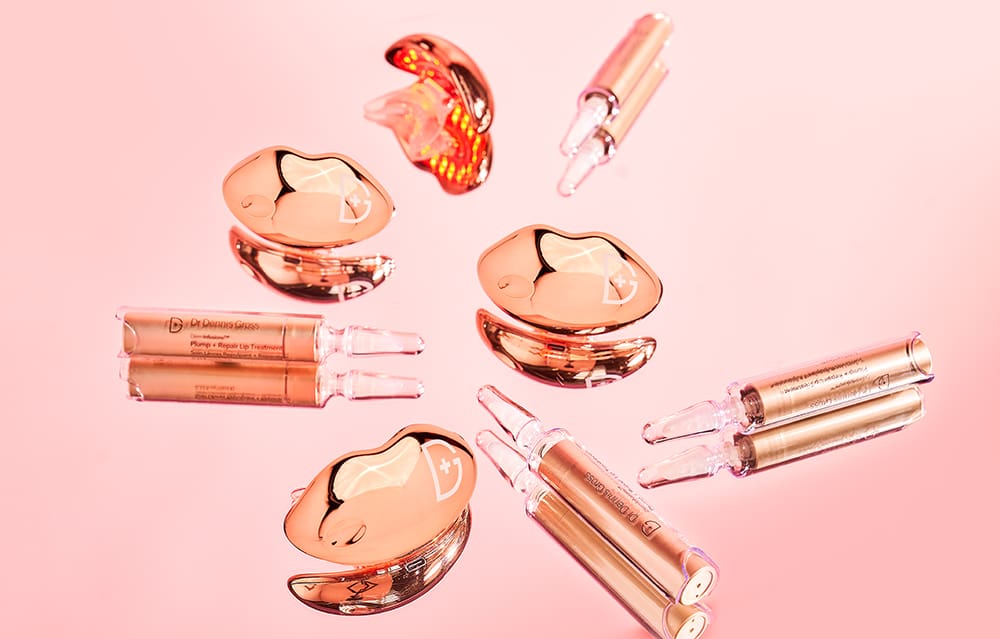 Best Lip Devices 2023
DR. DENNIS GROSS SKINCARE
DRX SPECTRALITE LIPWARE PRO
Firm the skin and boost collagen production around your lips with the new Spectralite Lipware Pro! This clinically proven LED-powered lip device has 56 LED red lights to target the full lip area. It will visibly target signs of aging such as fine lines, wrinkles and creases while improving circulation for enhanced natural color and visibly fuller, more defined lips.
Couple this device with another new launch from Dr. Dennis Gross! An effective alternative to filler, it pairs perfectly with the LipWare Pro!
DR. DENNIS GROSS SKINCARE
DERMINFUSIONS PLUMP + REPAIR LIP TREATMENT
An alternative to lip filler, its unique formula has 4 weights of hyaluronic acid that penetrate at different levels of the skin to visibly plump, restore volume and hydrate.
Your Lips Need SPF, Too!
The lips are made of delicate tissue that is easily prone to sun damage. When applying your morning SPF, don't forget to protect your lips as well!
Best Lip SPF 2023
ELTA MD
UV LIP BALM BROAD-SPECTRUM SPF 36
This creamy, long-lasting, moisturizing sunscreen soothes and protects dry, chapped and sun-exposed lips.
---
Shop Beauty Aficionado: