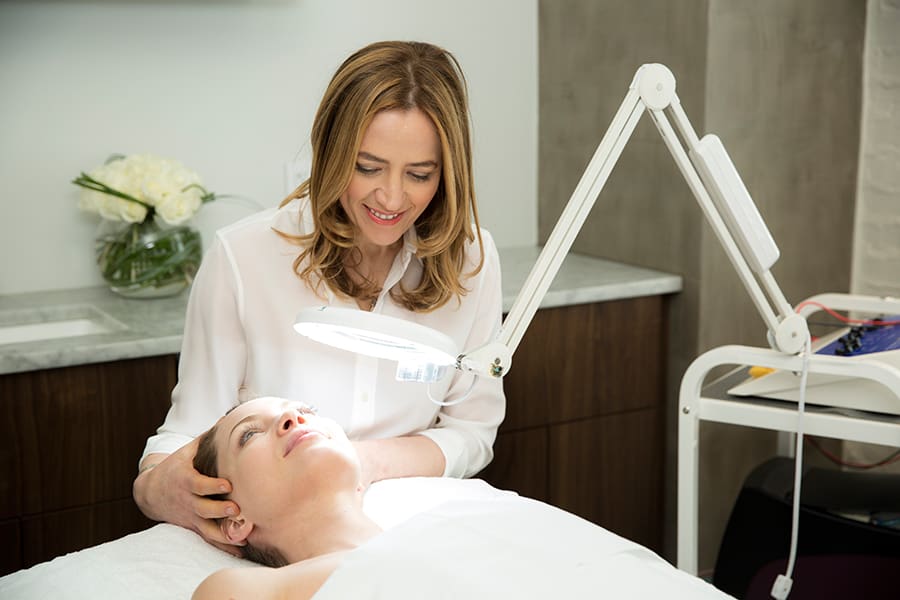 THE TREATMENTS
I am a huge believer in changing skincare and treatment routines as the seasons change.  Spring is the perfect time to give your skin a little boot camp.  Here I recommend a few treatments we offer at Rescue Spa that will ensure your skin is Spring fresh.
REFIRME: Radiofrequency (RF) technology delivers dramatic results in facial tightening & contouring.  No downtime, long term lift.
Lower Face: $250 (30 min)
Full Treatment: $400 (60 min)
IPL (Photo Facial): Rapid absorption of light treats; age spots, broken capillaries, redness, blotchiness, fine lines, and uneven texture. You can treat the face, neck, decolette and even hands.
IPL Target Area: $150 (30 min)
IPL Full Treatment: $300 (60 min)
PEELS: A customized combination of peels helps to improve hyperpigmentation, acne, and sun damaged skin.
Extra Strength Alpha Beta Peel contains multiple alpha and beta hydroxy acids. ($100)
TCA Peel uses trichloroacetic acid to dry the top layers of skin so they peel off over a period of several days. Reduces discoloration, improves melasma, and reduces fine lines. ($100)
BIOLIFT FACIAL: Uses electricity to plump, tone, slim & contour the entire face. Much like a personal trainer it takes the facial muscles through a workout session.
$90 (30 min)
$160 (Full Treatment)
LED Light Therapy: FDA Approved. Non-invasive infra red LED increases cell energy & collagen production to improve skin texture & firmness and penetrates products deeper into the epidermis. Antibacterial blue LED is known to improve acne prone skin.
$90 (30 min) 
$160 (60 min) 
Rescue Spa Owner & Aesthetician,
Danuta Mieloch