The holiday season has started and we're all juggling hectic schedules.  Let's not forget that this is also party season and trying to look your best from day to night can be a challenge. Getting ready is as easy as can be when your skin is glowing, your eyebrows are well groomed, and your nails are prettily polished. There is no better time than the holidays to give yourself a day of beauty you deserve. So either schedule for professionals to tend to those needs or do it yourself. Set up time, draw a bath, apply a hydrating mask, paint your nails, and check out our video for perfect eyebrows.

While shopping for your loved ones don't forget that beauty products are great stocking stuffers. Women are always reluctant to buy for themselves, even these days.  With beauty products you can't go wrong, they are always used and appreciated.  Who wouldn't like a fabulous matching shower gel and moisturizer and an elegant candle?
Here are our beauty favorites for the season…
Always at the top of the list, P50 "1970" it's like a facial in a bottle for everyone!
Prime Regenera II is the richest most luxurious winter moisturizer we carry.  You can put it anywhere, including your lips and hands, like an S.O.S for your skin.
Our latest obsession is a perfume via Paris called Attache Moi — which translated from French means "Tie me up".  The blend of musk, amber and lush wood notes make for an addictive combination and a unisex scent, highly seductive both for men and women.
We're currently burning the Nest candle, it makes the room smell like the holidays as it conjures warm memories.
The Gift Set from Anthony is a simple solution for the man in your life.
Catherine Zadeh macrame bracelets with little messages like "breathe" and "live and let live" to keep  your spirits bright throughout the day.
Owner of Rescue Rittenhouse Spa,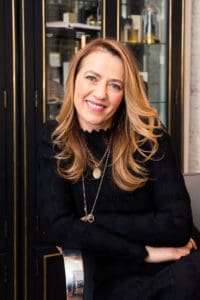 Danuta Mieloch

Tweet