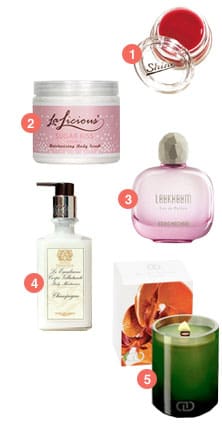 1. Red Sinner Shine Lip Gloss Unadulterated sheer red shine- easy to wear amazing to behold.
Shop Now
2. LaLicious: Sugar Kiss Souffle Scrub Pure cane sugar crystals exfoliate while sweet almond oil moisturizes and smooths your body to perfection. Simply divine!
Shop Now
3. Loukhoum Parfum A deliciously sweet and addictive fragrance. Voluptuous, Witching, Sensual.
Shop Now
4. Champagne Lotion & Hand Wash The heady fragrance of champagne becomes a luxurious treat for your hands and entire body.
Shop Now
5. Dayna Decker Clementine Candle Set the mood when you light this candle with the luscious aroma of clementine. It's EcoWood Wick creates a flame that dances and flickers with a soft, crackling effervescence to make you feel like you're dreaming by the fire.
Shop Now