Jessica Corrigan wears Dandy Blossom by Essie; Micheux Jordan wears Cake Pop by Vinylux; Kelly Collana wears Creekside by Vinylux; Aggie Otrebska wears Sunbleached by Vinylux on her nails.  Manicures courtesy of Kelly Collana of Rescue Spa, 1601 Walnut St., 215-772-2766, www.rescuespa.net.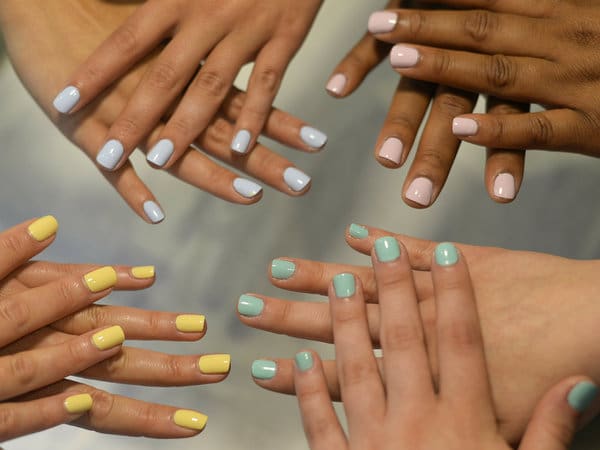 Stark-white blouson jumpsuits and pretty floral skirt-and-midriff-top suits call for so much more than a plain old nude nail this summer.
The trendlet
Saturated pastels – think cotton-candy pink, grass green, sky blue, lilac purple, and even milkshake white – on short, squarish nails pop against quiet palettes. The more opaque your shade of sherbet is, the better.
Where's it come from?
Shortly after first lady Michelle Obama kicked off the greige nail obsession during the 2012 Democratic National Convention, women moved away from candy apple red and clear polishes en masse.
In recent years, advancements in manicure technology – ultraviolet gel systems and quick-drying polishes – have eliminated nicks and cracks. As a result, we've gone hard on color. Even the most conservative of us experimented with deep cobalts, navys, and blacks in the fall.
Influential designers from Wes Gordon to Misha Nonoo directed stylists to use chalky hues on the nails of models sent down the spring 2015 runways, complementing the pale jumpsuits and pantsuits they were wearing.
And in April, Obama paired a soft blue nail with a Monique Lhuillier watercolor coat-and-dress ensemble to welcome the Japanese prime minister and his wife to the White House – working her influential nail magic once again.
Who's wearing it?
Ladies eager to add personality to their neutrals while standing out in a quiet way. Actress Zoe Saldana has been spotted in white nails, singer Lady Gaga recently went with violet, and actress Megan Fox has been known to prefer periwinkle.
Would Elizabeth wear it?
Even as I type this, my nails are a cool shade of key-lime-pie green.
ewellington@phillynews.com
Should you wear it?
Absolutely. Ice-cream-color hues make fingertips quietly fierce. And don't be afraid to treat the lighter hues as a neutral. In other words, a light-pink or yellow nail will not at all clash with your orange shirtdress.
Read more at: http://www.philly.com/philly/living/20150621_Trendlet__Pastel_nail_polish.html