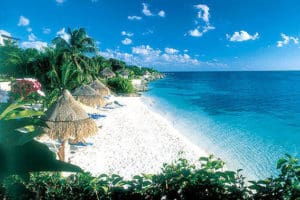 It's impossible for me to plan a vacation away without checking out the spa scene at my chosen destination. This time I set my sights on Hotel Villa Rolandi in Isla Mujeres because of their extensive Thalassotherapy department. I booked a Balneotherapy treatment which reminded me of a new-age Jacuzzi on steroids with its alternating programs designed to stimulate or relax different body parts through varying degrees of salt water pulsation. The Vichy shower was interesting too although I found the experience of being massaged while being rained upon a bit distracting. When I introduced myself to the estheticians they were super charming and proudly showed me their retail department which carried a single product line. I must admit that I felt a sense of relief to have such an extensive international selection of skin care products to work with and offer my clients at Rescue. There's no place like home.
Is it possible not to have oily breakouts when vacationing in temperatures of 90 degrees and higher? My skin loved my Valmont cleansing gel, and Purifying Pack clay masque which I obsessively used every night to refresh my skin before hitting the town. During the day sunglasses were the standard but evenings I relied upon my beauty staple, Blinc eyeliner which didn't budge or smudge.
Upon my return to Rescue, I will make it a point to have a facial using the Ultrasound machine to deeply but gently remove the nasty buildup of sun block that tends to clog pores and cause skin irritations. It's easy to forgo skin care in the summer because we look so sun-kissed but now is the time to book regular facials to keep your skin healthy, hydrated and happy.
Esthetician,
Linda Harding