As the seasons begin to change, not only are we transitioning our wardrobes but it is time to transition to our summer skincare routines. Warm weather creates a myriad of new skincare challenges, ranging from proper sun protection to keeping your skin adequately hydrated. Our estheticians will give you all the guidance you need to get your skin summer ready!
What is your AM skincare routine?
I like to cleanse using a milky cleanser, typically Lait U, since it does not dehydrate my skin. After I cleanse, I use a lightweight serum. My favorite summer serum is the Environ Vita-Enriched Antioxidant Gel. Antioxidants are especially important for your skin in the summer since it protects the skin from external aggressors, such as pollution or UV-rays. Following the serum, I use the LumiCream from Valmont as my moisturizer. Not only do I love how airy this cream feels on my skin, it immediately brightens and unifies my complexion. My morning skincare routine would not be complete without SPF! Jan Marini's Physical Protectant Tinted SPF 45 is soothing enough to calm my skin that gets so easily stressed from the heat.
What is your PM skincare routine?
I start my night time routine by double-cleansing my skin using Cerabalm. This is crucial to properly remove SPF and pollution from the day. Cerabalm makes it easy to melt everything off of my skin while fighting pigmentation and sun spots. Next up, is the cult favorite Lotion P50 1970 to exfoliate, hydrate and balance the pH of the skin. I pat this into my skin with a cotton pad so it really sinks it. To finish off the night, I use two products from Medical Beauty Research: The Modukine Serum and Modukine Cream. The Modukine line is great for my skin in the summer because it still gives me the anti-aging benefits while calming any irritation I might have.
How do you prevent pigmentation?
Of course SPF, but one of my favorite duos to prevent pigmentation is the Vita Botanical Mela-Fade Serum System from Environ. I mix serum A and serum B together and either spot treat with it or apply it to my entire face, I love the versatility of it.
What facials would you recommend going into summer?
The IonixLight Facial is going to be your full-spectrum best friend. There is zero-downtime and immediate results, which makes it a great option for anyone lacking time or really looking to treat their skin. This treatment utilizes vitamin infusion therapy, making sure the skin is bright, hydrated and firm. My clients love this treatment!
What would you change for your summer skincare routine?
As a general rule of thumb, transitioning to lighter serums and creams for the summer will help control sebum production. One I like to recommend to my clients who are looking for a lightweight cream is from Biologique Recherche. The Emulsion Gel Biosensible S.R. (Sebum Regulating) actively relieves redness, tightness and rebalances the epidermis. Another great addition to your summer skincare routine is Masque Vivant. This masque can be used for any and all skin types, amazing for keeping the skin purified, revitalized and bright.
---
What is your AM skincare routine?
I start off my morning by using Environ Botanical Infused Moisturising Toner to hydrate my skin and prep it for the day. Vitamin C is a key step to prevent hyperpigmentation and to give your skin antioxidant protection. I use the IS Clinical Super Serum in my morning routine because of how lightweight it is and its powerful blend of botanical antioxidants. Moisturizers can be tricky, but I have found that Creme Hydravits gives me just the right amount of moisture without it feeling too heavy on my skin (this also has Vitamin C). I seal everything in by using the UV Clear Broad-Spectrum SPF 46 Sunscreen from EltaMD. I always reach for this sunscreen because I know it won't make me breakout. 
What is your PM skincare routine?
My nighttime routine always starts with a double-cleanse using Cerabalm followed by a gel based cleanse using Cleansing Complex. To tone and prep my skin for serums, I use Lotion P50 1970 and then gently pat in the Beauty Drops No. 3 from Future Cosmetics. This water based serum not only gives my skin a beautiful glow but prevents me from breaking out! Going along with the Future trend, Creme Eclair is my current go-to moisturizer. Its antioxidant heavy formulation makes it ideal for anti-aging prevention.
How do you prevent pigmentation?
The most straightforward answer is to reapply your SPF, wear a hat and stay out of the sun. Product wise, the Platinum Lotion from Hyalogy protects the skin from free radicals and dramatically reduces pigmentation. This is a great option for all skin types or for those more on the oily side.
What facials would you recommend going into summer?
Microdermabrasion is the perfect addition to the Rescue Facial if you are looking for beautifully polished skin. Microdermabrasion will effectively remove sunscreen build up, dead skin cells and leave you with even-textured skin.
What would you change for your summer skincare routine?
Double cleansing is important all year long but it becomes that much more of a critical step in your skincare routine to properly remove all the sunscreen you should be applying throughout the day. Generally, sunscreen should be reapplied throughout the day as the active ingredients in it will break down when exposed to harsh UV rays.
---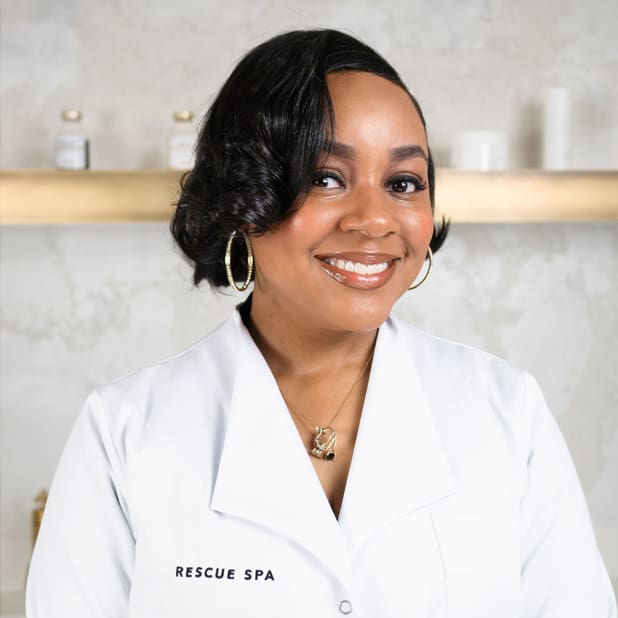 What is your AM skincare routine?
After cleansing my skin, I tone with my D22 Tonic which leaves me with a beautiful glow and preps my skin for my serums. The first serum I like to use in the morning is the Brightening Serum from IS Clinical, which does just that; brightens and evens my skin tone. I then go in with a hyaluronic acid serum to give me long lasting hydration all throughout the day, this feels like a drink of water for the skin. After I apply moisturizer I use my Elta MD Clear SPF, this is super lightweight and hydrating (leaves me with a glow too!). I have very sensitive skin during the spring and summer so I always keep the Phyto Correcting Mist on me. I spray this on my skin throughout the day and it calms down any inflammation, irritation or redness.
What is your PM skincare routine?
My PM routine is pretty similar to my AM routine, but I double cleanse with Cerabalm and then use a Benzoyl Peroxide cleanser following that to combat acne. A few times a week I mask using the Hydra-Intensive Cooling Mask to calm and rehydrate my skin.
How do you prevent pigmentation?
For current pigmentation issues, I alternate between the Brightening Serum from IS Clinical or the Discoloration Defense by SkinCeuticals. A couple times a week I do some extra exfoliation using the Revival Masque. To prevent pigmentation, I make sure to wear a hat as much as possible and walk on the shady side of the sidewalk. Most importantly, reapply sunscreen like your life depends on it!
What facials would you recommend going into summer?
A Rescue Facial with a cold seaweed mask for post sun exposure. So soothing!
What would you change for your summer skincare routine?
I don't change much in my summer vs winter routine. I like a heavier cream year round because I get dry easily. If you are looking for some new additions, invest in some post sun cooling masks like the Hydra-Intensive Cooling Mask from IS Clinical to calm the skin down, repair and rehydrate. Lastly, this is not necessarily a skincare routine change, but I do recommend for those who aren't great at drinking water to at least drink gatorade for extra hydration.
---
Shop Beauty Aficionado: