While most of us are focused on the season's wardrobe staples, us over at Rescue Spa are not only focused on how to layer our cashmere's but how to layer our skincare too. Rather than slathering on a heavy cream and calling it a day, Danuta's fall skincare tip is to try layering your favorite serums and face masks to achieve the ultimate fall routine.
---
"In the fall, the skin starts to get drier so I rely on layering. I have become the layering master! Just like you layer your clothing, layer your skincare too."
— Danuta Mieloch
---
In what order should you apply your skincare?
Let me preface by stating that you don't need a 15-step skincare routine to layer your skincare! The order in which you apply your products and the specific products you're using is the most important part when it comes to layering your skincare.
1. Apply A Water-Based Serum
A water-based serum will allow for rapid absorption and thorough hydration without leaving an unwanted layer on the skin. Find a serum that works for you and your skin goals!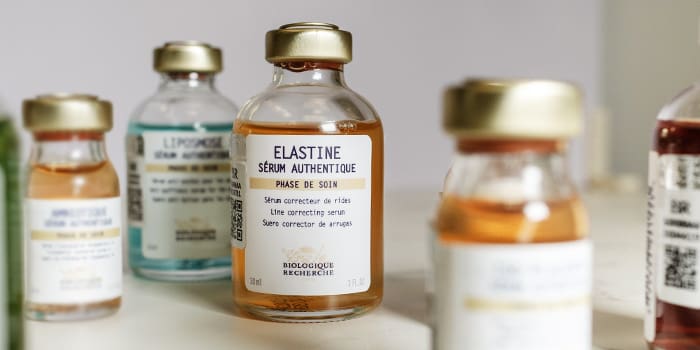 Serum Elastine is a great option if you are looking for an anti-aging product. This serum will smooth out fine lines and wrinkles and prevent the skin's loss of elasticity. You can apply to the entire face or focus on expression lines or signs of wrinkles around the eyes and mouth.

The unique formula in Serum Fluide VIP O2 traps oxygen at the surface of the skin, making it that go-to formula to protect the skin while brightening the complexion. Mieloch states that this serum is "a must-have in my bathroom medicine cabinet. It erases signs of tiredness and dark circles under your eyes. The serum can be used all over your face before or after moisturizer. It protects you everyday, giving you that famous, glowing 'Biologique' complexion!"

Don't forget about a serum for the eyes! This is the essential eyelid lifting concentrate, that will moisturize, regenerate and leave a look of newfound youth.
2. Moisturize
Although it is important to moisturize all year round, fall weather is generally less humid which can leave your skin dry and flaky. Invest in a nourishing and deeply hydrating moisturizer to beat the dryness.

It's finally here and just in time for the fall! This multi-purpose cream is packed with natural actives that will firm, fill, tighten and define the V-contour of the face. Best of all, it can be used by anyone of any age! After application your skin is perfectly hydrated, nourished, firmer and more protected. All you need is a pea-sized amount for the face.

After application of your Serum Majestueux Vos Yeux, layer the eye area with this creamy mousse. It is a highly effective anti-aging eye cream, meant to slow down the aging process, reduce puffiness and fade dark circles.
3. Lock It In with a Finishing Serum
Not only promote radiance and protection, depending on what your skin needs, Biologique Recherche has a finishing serum to address it!

Truly silk in a bottle! Serum Silk Plus will reduce excess oil on the skin, the appearance of redness and other signs of inflammation. This finishing serum can be mixed with your favorite foundation or applied over your moisturizer for extra glow and hydration.

Serum Yall-O2 is rich in hyaluronic acids and antioxidant botanical extracts to re-plump and smooth the skin. This finishing serum is recommended for all types of dehydrated skin, perfect for the cooler dry weather.
4. Yes, You Can Layer Masks Too
---
"I always believe in layering. The way you layer your clothing – layer masks too."
– Danuta Mieloch
---
One of our favorite tricks at Rescue Spa is to layer our masks! You get 2x the benefits when applying two face masks rather than one. Next time you go to mask, do a thin layer of Masque VIP O2 and on top of that apply a thin layer of Masque Vivant. Layering these two, will give you the oxygenating and moisturizing benefits as well as the balancing and purifying! The perfect fall mask combination when our skin is starting to become unbalanced and dry.
Keep in mind that you can always play around with the serums, moisturizers and masks you are using as our skin needs are constantly changing. If you are unsure if these are the right ones for your skin, please feel free to schedule a complimentary skincare consultation with one of our beauty experts to get your fall routine started.