Unwanted pigmentation is one of the most common skincare concerns! Whether caused by sun damage, melasma, or post acne marks, we all need brightening products in our routine to fade and prevent hyperpigmentation. Luckily, with consistency and proper products, fading stubborn pigmentation is possible!
Preventing Hyperpigmentation
Prevention is key when it comes to skincare, as it is always easier to prevent pigmentation than to correct it. Always protect your skin from the sun with proper SPF and use brightening products daily to maintain a clear, luminous complexion.
Best Brightening Skincare 2023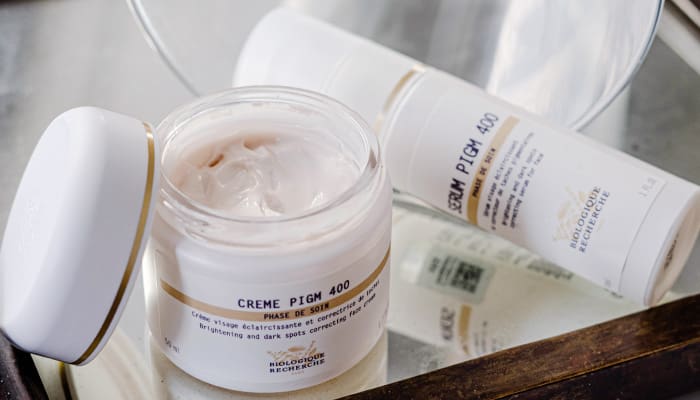 BIOLOGIQUE RECHERCHE MASQUE PIGM 400
This radiance boosting sheet mask contains high concentrations of exceptional antioxidants to even skin tone and minimize signs of fatigue. 
FORLLE'D HYALOGY BW INTENSE MASK
This intensive brightening and smoothing mask evens the complexion, and even more impressively, prevents the reappearance of stubborn hyperpigmentation. 
DANUCERA D22 TONIC
This potent toner is packed with natural acids, minerals, enzymes and vitamins, making it a must-have prep-step that works on every skin type to exfoliate, tighten and unclog pores for smooth, glowing skin instantly!
---
Fade Existing Pigmentation
Your daily at-home routine is key to fading pigmentation! Incorporating a daily exfoliant helps to keep skin luminous and blemish free by removing dead skin and encouraging cell turnover. We also recommend products rich in antioxidants. Antioxidants are integral for youthful, glowing skin. One of the most potent antioxidants is Vitamin C, which protects the skin from free radical damage and helps to brighten the complexion.
Best Skincare to Fade Hyperpigmentation 2023
ENVIRON
VITA BOTANICAL MELA-FADE SERUM SYSTEM
An innovative, two-step serum system that contains a concentrated blend of vitamins and botanicals to target and diminish discoloration.
MBR MEDICAL BEAUTY RESEARCH
LUMINOUS PEARL EXTREME BIOCHANGE CEA
Achieve an illuminated complexion with this brightening Vitamin C cream perfect for those struggling with hyperpigmentation. Simultaneously reducing pigmentation while providing impressive anti-aging benefits, this moisturizer provides radiance while strengthening the skin
DR DENNIS GROSS SKINCARE
CLINICAL GRADE IPL DARK SPOT CORRECTING SERUM
Fade stubborn dark spots and protect the skin against environmental aggressors with this innovative serum that is clinically proven to reduce pigmentation within weeks.
---
Shop Beauty Aficionado: