By Victoria Shelton, Skincare Expert
Whether from melasma, sun damage or what is left behind after a pesky pimple, we all deal with hyperpigmentation at some point. Luckily, with consistency and proper products, fading stubborn pigmentation is possible! As one of the most common skincare concerns, many people get discouraged when it takes longer than expected to see results.
Pigmentation is best faded by incorporating treatments into multiple steps in your skincare routine, and most importantly, taking the appropriate steps to prevent pigmentation before it forms.
How to fade hyperpigmentation?
Treat pigmentation as soon as it appears to help accelerate the healing process, and to maintain an even, luminous complexion!
One of the best products you can have in your routine is a chemical exfoliant. Not only will these products prevent clogged pores and breakouts, but they are also integral in fading dark spots. Chemical exfoliants use skin-friendly acids to resurface the top layers of the skin, and depending on the acid, even help to target pigmentation that has yet to come to the surface.
A fantastic clean beauty option is the Danucera D22 Tonic. This potent toner is packed with natural ingredients such as natural acids, minerals, enzymes and vitamins, making it a must-have prep-step that works on every skin type to exfoliate, tighten and unclog pores for smooth, glowing skin instantly! This toner combines three different types of acid (lactic, glycolic and PHAs) for a supreme brightening effect.
Cult French skincare line Biologique Recherche also makes an effective toner for pigmentation. Lotion P50 PIGM 400 removes impurities and dead skin cells while diminishing pigmentation marks and unifying the complexion. Pro-tip: Couple with Serum PIGM 400 to double the glow factor!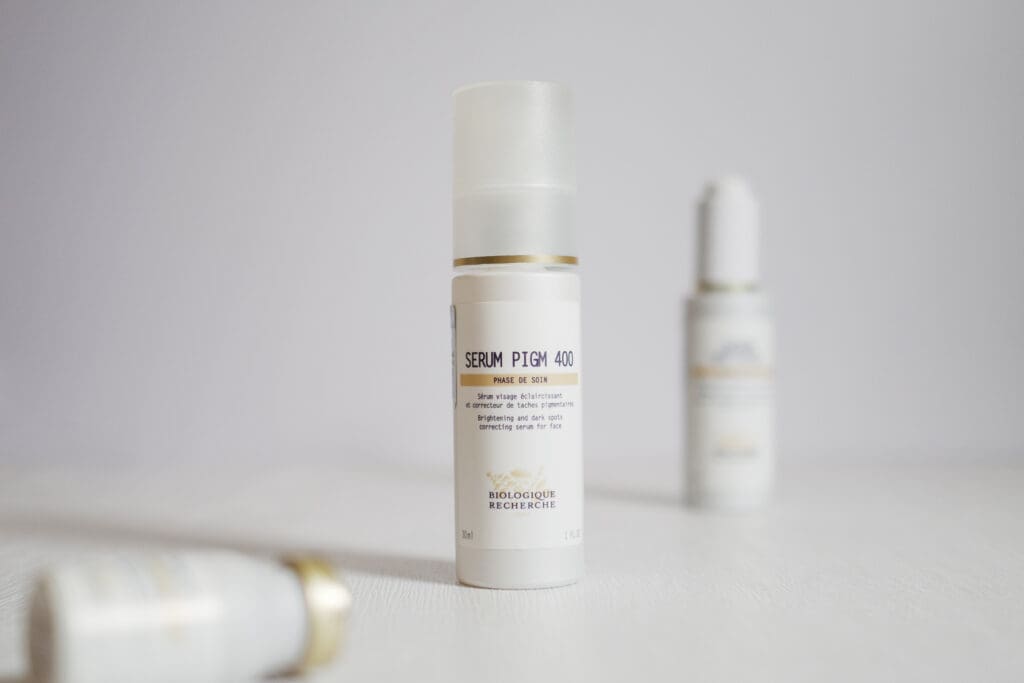 Best Masks for Hyperpigmentation 2023
For an added boost of active ingredients, incorporate a face mask into your skin regimen. Masks make the perfect supplements to any routine, especially when it comes to pigmentation!
Japanese skincare line Forlle'd is formulated using patented developments in nanotechnology, biofermentation and ionization. Their Hyalogy BW Intense Mask is an intensive brightening and smoothing mask that evens the complexion, and even more impressively, prevents the reappearance of stubborn hyperpigmentation.
Masque PIGM 400 from Biologique Recherche is another amazing choice. This radiance boosting sheet mask contains high concentrations of exceptional antioxidants to even skin tone and minimize signs of fatigue.
Both of these masks are easy to fit in your routine and will leave your skin glowing and even in no time!
How to prevent hyperpigmentation?
In skin care, prevention is key! Protecting the skin from the sun's rays is crucial to your skin's health, as sun damage is the #1 reason for pigmentation and visible signs of aging.
The best defense against this is SPF! Sunscreen should never be skipped and is integral to your skin's health. Unfortunately, it is also the most overlooked step in most people's routines. Find an SPF that works for your skin and lifestyle, and be sure to bring one with you to reapply every two hours!
ISDIN creates some of the beauty industry's favorite sunscreens as they combine advanced formulas with innovative textures to ensure both a practical and sensory experience. Available in both tinted and un-tinted, the Eryfotona Actinica Mineral Sunscreen protects, corrects and repairs by using zinc oxide and peptides to fight the signs of photoaging, while providing broad spectrum sun protection.
What spa treatments are best for hyperpigmentation?
For exceptionally persistent pigmentation, laser skin treatments can provide unprecedented results with only a few treatments. BBL Forever Young offers a total skin rejuvenation, and removes age spots, freckles and redness while softening lines and wrinkles. To ensure you are a good candidate for any laser services, please call Rescue Spa at (866) 772-2766 to book your consultation with one of our talented laser technicians.
If you have any questions, or need any assistance in finding the best skincare routine for you, please reach out to us at shop@rescuespa.com and one of our knowledgeable experts will happily assist you!
---
Shop Beauty Aficionado: