There are a myriad of lifestyle changes that occur for expectant mothers, and your skincare routine is no exception! During this important time, it can be confusing on what products you can and cannot use. However, there is no need to sacrifice on efficacy! There are plenty of highly effective skincare products available that will help you to maintain beautiful skin while still being safe for baby!
Why Ingredients are Important
Since there are certain ingredients that are not recommended to use while expecting, this is a great time to become acquainted with the actives in some of your favorite products. Many women begin to lean towards clean beauty at this time!
---
Meet Danucera: The Perfect Skincare Routine for Moms-to-Be!
Inspired by age-old beauty solutions, as well as the health of our planet and our bodies, DANUCERA adheres to strict clean-beauty standards. All DANUCERA products are safe for pregnancy and nursing, and is free of parabens, phthalates, phenol, silicones, perfumes, and fragrances. DANUCERA is the perfect capsule collection for those looking for luxurious, effective and natural skincare. With elegant and multi-benefit products, one can create a simple and streamlined routine that remedies and prevents a myriad of different skincare concerns. All of that, combined with using the absolute cleanest ingredients in the industry, make this the perfect product line for mothers-to-be!

Best Pregnancy Safe, Clean Beauty Products for All Skin Types
DANUCERA
CREAM SUPREME
The clean beauty hydration hero where efficacy meets nature! Packed with natural actives that firm, fill and tighten, this universal moisturizer is specially formulated for all skin types and ages to leave skin hydrated, nourished and firm!
DANUCERA
CERABALM
This clean beauty multi-purpose balm reveals fresh, hydrated skin. Perfect for any pregnancy related skin concerns and packed with nourishing minerals and botanicals, skin is left instantly and visibly improved, with a firmer, smoother and more radiant complexion. Cerabalm can be used as a cleanser, mask or moisturizer making it the perfect multi-tasking treatment.
DANUCERA
D22 TONIC
The complexion perfector! Packed with natural acids, minerals, enzymes and vitamins, this toner works on every skin type to exfoliate, tighten and unclog pores for smooth, glowing skin instantly!
---
Keep that Pregnancy Glow
Your skin's needs fluctuate and change during pregnancy due to the change in hormones. For some, this results in the unmistakable "pregnancy glow", but for others, you can begin to experience excess oil and breakouts! Masking is a quick and effective way to combat breakouts.
Best Pregnancy Safe Purifying Mask
BIOLOGIQUE RECHERCHE
MASQUE VIVANT
Vivant is packed with live yeast extracts and nourishing Vitamin B to balance and revitalize the complexion, leaving it toned and bright.
Melasma, also known as "pregnancy mask" is a very common concern for pregnant women. Daily use of SPF and an exfoliating toner and regenerating serum that focuses on hyperpigmentation can make a world of difference!
Best Pregnancy Safe Products for Melasma and Blemishes
BIOLOGIQUE RECHERCHE
LOTION P50 PIGM 400
Reveal smooth, radiant skin with this cult favorite toner! Remove impurities and dead skin cells, while diminishing pigmentation marks and unifying the complexion. Perfect for moms-to-be who are experiencing melasma!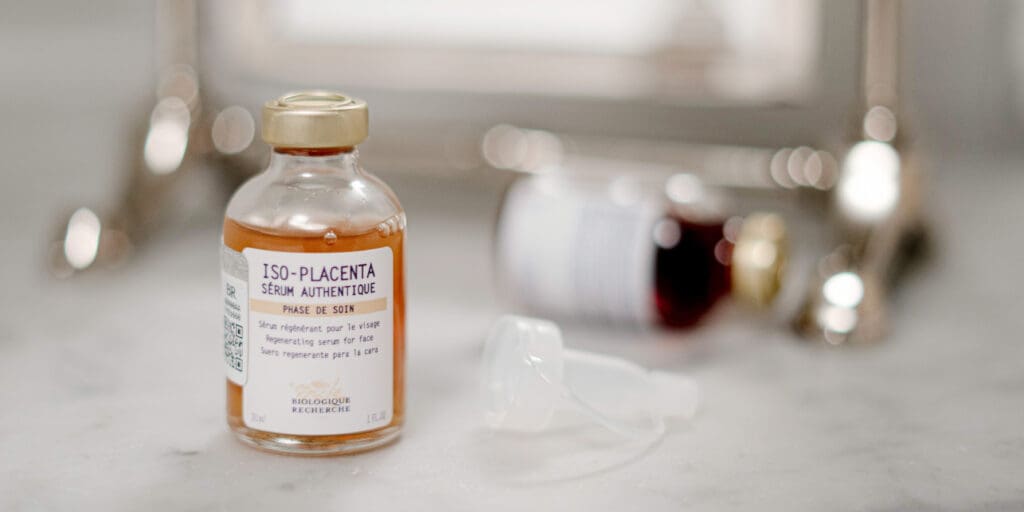 BIOLOGIQUE RECHERCHE
SERUM ISO-PLACENTA
Containing Biomimetic Placenta, this serum stimulates the skin's natural healing abilities, smoothing stubborn acne scars, reducing redness and healing current blemishes.
---
Shop Beauty Aficionado: