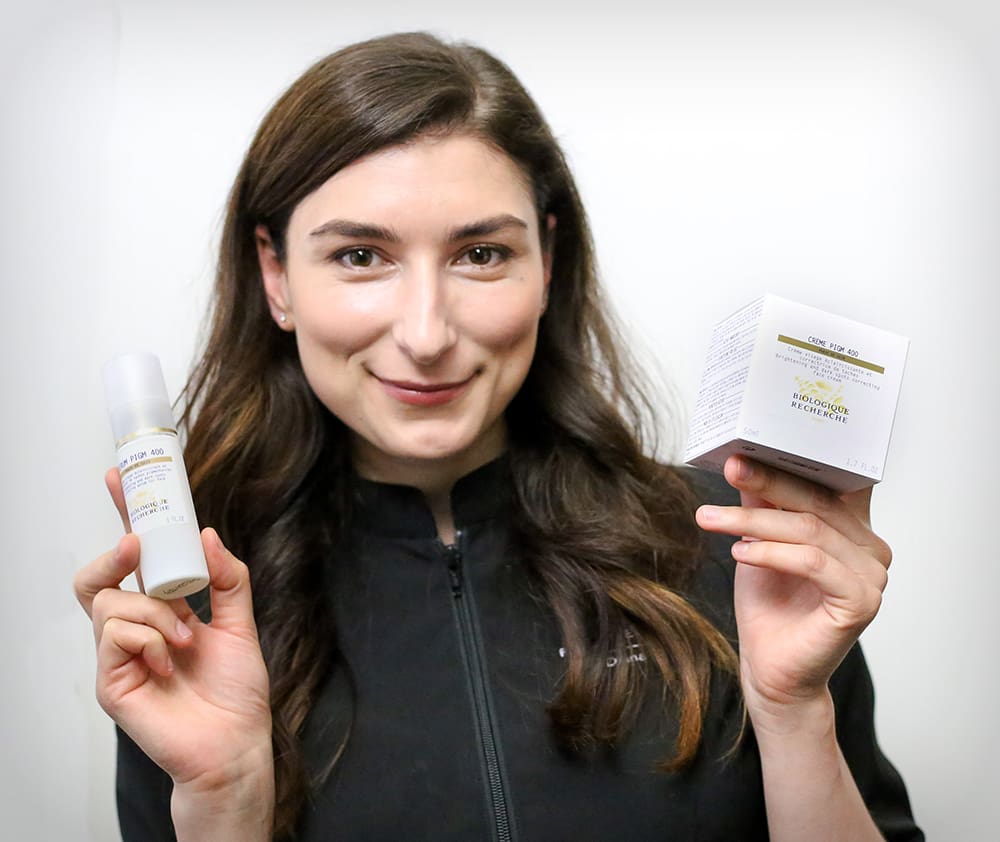 Summertime is the time to protect your skin.
~
Questions regarding hyperpigmentation come up in 7 out of 10 appointments and it's safe to say that it is one of the main concerns in skin treatment rooms. In this post I would like to discuss the ways to prevent hyperpigmentation and share some of my favorite products to treat this common skin disorder.
Hyperpigmentation is caused by an overproduction of melanin (the pigment that gives our skin, hair and eyes its natural color) in the patches of the skin. It is a skin condition that affects every ethnic background and skin tone and is mostly associated with aging. Pregnancy or hormonal fluctuations, UV radiation and photo aging, chemical or UV burn, genetics and allergies are just some of the more typical factors.
Daily use of a broad spectrum sun protection is a sure way to prevent hyperpigmentation caused by exposure to the damaging sun rays. Exfoliation is essential to reduce the build of dead skin cells and to promote skin cell regeneration for brighter skin every day.
Professional treatments such as microdermabrasion, chemical peels and IPL are all effective.
Active Ingredients to look for in products are:
Alpha/Beta Hydroxy Acids

Arbutin

Kojic Acid

Azelaic Acid

Glabridin/Licorice Root Extract

Retinoids

Epidermal Growth Factor
Some of my personal favorite treatments to combat hyperpigmentation include:
CLEANSE
Biologique Recherche Lait VIP O2 is an "antipollution" cleanser that brightens and unifies the complexion, eliminates impurities and calms the epidermis.
TONE
Biologique Recherche P50 PIGM400 is the newest formulation of the beloved P50. It enhances epidermal renewal and helps regulate melanin synthesis while respecting and protecting the skin. Lightens the skin, reduces the size of pigmentation marks and prevents them from appearing. Inhibits melanin synthesis. Improves the strength and quality of the epidermis. Unifies and brightens the complexion. Balances pH on the skin's surface.
TREAT-SERUM
Valmont Clarifying Infusion Brightening Serum is an ultra-concentrated treatment that decreases melanin production and fights hyperpigmentation. It increases skin brightness and complexion evenness to reveal perfectly even-toned skin.
Serum PIGM 400 is a brightening, spot-correcting serum that illuminates the complexion and fights free radicals. It is my personal favorite. Paired with Creme PIGM 400, this powerful duo fights pigmentation and reveals glowing complexion.
Clarifying Lotion and Intensive C Boost by Environ is another great combination for combating visible skin pigmentation. The Clarifying Lotion is a light, non-oily lotion that nourishes the skin with important water-soluble ingredients that inhibit the production of melanin. It maintains the skin's natural acid mantle and can either be used on small, easily defined pigment blemishes, or as a whole face and neck solution for extensive uneven skin tone. The Intensive C-Boost contains a powerful form of vitamin C ideal for sun damage, pigmentation, fine lines and capillaries as well as for the maintenance of a healthy skin.

TREAT MASK
Valmont Clarifying Pack is a clarifying cream-mask that is rich in illuminating ingredients. Provides visible brightening effect, mattifies and tightens the pores. Just after one treatment the skin is flexible, soft, and gleams with a new radiance. Use it once a week in addition to your current masque treatment.
Environ Revival Masque is a powerful combination of Lactic, Mandelic and Asiatic acids formulated to target the effects of photo-damaged skin and the appearance of uneven skin texture.
The Beautigenix Brightening Mask is a Korean sheet mask that reduces the appearance of sun and age spots, removes signs of fatigue, gives skin a radiant and brighter look, evens skin tone and texture – also improves mild acne. All and all, a perfect on the go solution for someone who has uneven skin tone, dark spots or sun damaged skin.
MBR Beta-Enzyme is a gel-masque based on mild hydroxy acids in combination with a papain enzyme complex for smooth, clear and more radiant skin.
TREAT-INTENSIVE CURE
Cellcosmet Ultra Brightening Elasto-Collagen XT is a real anti-pigmentation face-lift that resculpts the skin injecting it with hydration. Packed full of scientifically selected ingredients, the Ultra Brightening Elasto-Collagen XT serum with its concentration of 15% active stabilized bio-integral cells and expert brightening complex, delivers a complete firming and brightening solution. Whether used as an occasional 12-day treatment or throughout the year, Cellcosmet Ultra Brightening Elasto-Collagen XT revitalizes, progressively lightens natural skin tone, redefines and intensely hydrates the face, neck and décolleté area. The skin's firmness and ability to bounce back are visibly improved, pigmentary spots visibly attenuated while the facial contours are resculpted and the oval of the face redefined.
Post Inflammatory Hyperpigmentation (PIH) is one of the more difficult types of pigmentation to get rid off. These red or brown regions of pigment are usually associated with acne, chemical burns, eczema or dermatitis. One of my favorite products to tackle it is Sebuspot by Environ – a mild gel for use on inflamed areas of the skin. It helps reduce congestion and residual redness while at the same time drying up skin blemishes.
Biologique Recherche Creme PIGM 400
is a concentrate of brightening, anti-age spot and protective ingredients.  Its multipolar formulation helps correct existing pigmentation imperfections and prevents new age spots from forming. The complexion becomes increasingly luminous and the skin appears more even. Best when paired with Serum PIGM 400.
Institute Esthederm Clarity System Whitening Brightening Repair Day Cream
regenerates and restructures the skin, protects, prevents photo-aging, cell damage and the risk of redness and inflammation.
MBR Luminous Pearl Extreme
works on delivering both multi-active anti-aging effects as well as a perfectly balanced and illuminated complexion.
PROTECT
Biologique Recherche Protection UV
helps protect the epidermis from the harmful effects of UVA, UVB, and infrared rays. The formula rich in anti-aging, soothing, anti-spot and moisturizing active ingredients helps prevent skin aging and dehydration.
MBR High Protection Face Cream SPF30
protects the skin from sunburn, aging, wrinkles and pigmentation spots which can be caused by excessive exposure to the sun. It smoothes and mattifies skin appearance for an even and healthy tan.
Institute Esthederm Photo Regulator
helps reduce pigmentation spots by reducing the contrast between the hyper-pigmented areas and tanned skin. This helps to ensure a consistent and harmonious tan safely.
Summer time is the prime time to protect your skin and prevent stubborn hyperpigmentation caused by excessive sun exposure. Wear a hat, polarized sunglasses and be mindful when out and about. You only have one skin, take care of it now and enjoy the compliments later!
Diana Yerkes