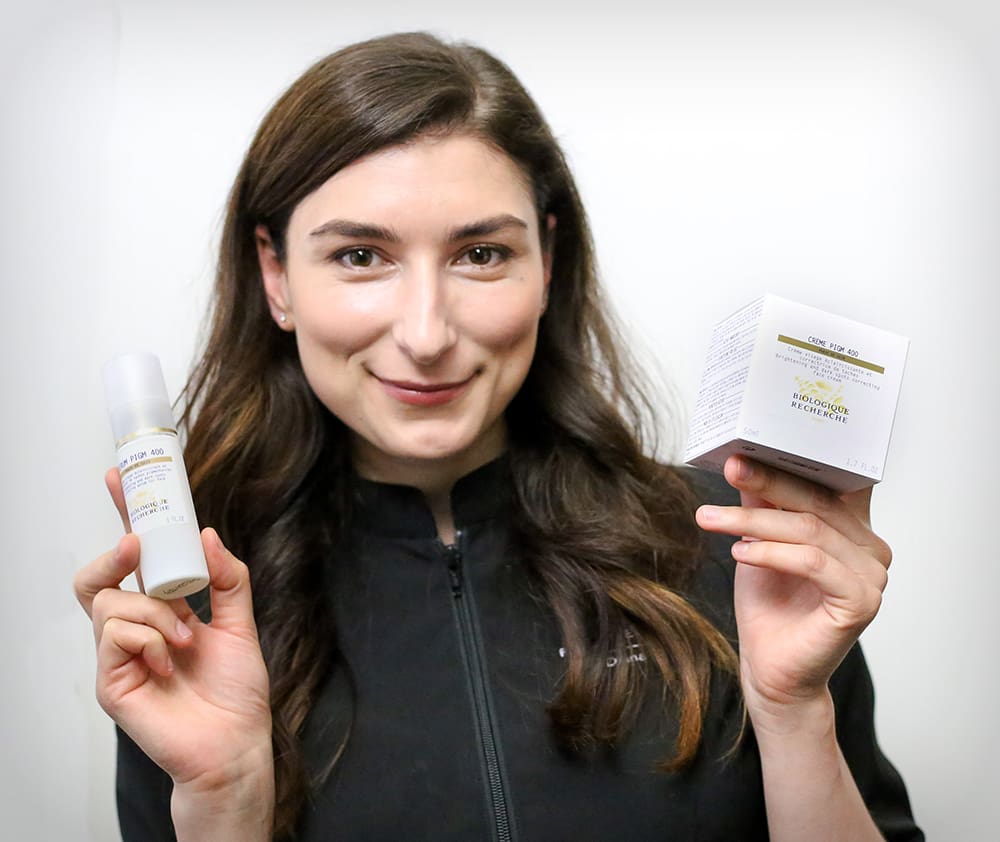 Summertime is the time to protect your skin.
~
Questions regarding hyperpigmentation come up in 7 out of 10 appointments and it's safe to say that it is one of the main concerns in skin treatment rooms. In this post I would like to discuss how to prevent hyperpigmentation and share some of my favorite products to treat this common skin disorder.
Hyperpigmentation is caused by an overproduction of melanin (the pigment that gives our skin, hair and eyes its natural color) in the patches of the skin. It is a skin condition that affects every ethnic background and skin tone and is mostly associated with aging. Pregnancy or hormonal fluctuations, UV radiation and photo aging, chemical or UV burn, genetics and allergies are just some of the more typical factors.
Daily use of a broad spectrum sun protection is a sure way to prevent hyperpigmentation caused by exposure to the damaging sun rays. Exfoliation is essential to reduce the build of dead skin cells and to promote skin cell regeneration for brighter skin every day.
Professional treatments such as microdermabrasion, chemical peels and IPL are all effective.
Active Ingredients to look for in products are:
Alpha/Beta Hydroxy Acids

Arbutin

Kojic Acid

Azelaic Acid

Glabridin/Licorice Root Extract

Retinoids

Epidermal Growth Factor
Some of my personal favorite treatments to combat hyperpigmentation include:
CLEANSE
Biologique Recherche Lait VIP O2 is an "antipollution" cleanser that brightens and unifies the complexion, eliminates impurities and calms the epidermis.
TONE
Biologique Recherche P50 PIGM 400 is the newest formulation of the beloved P50. It enhances epidermal renewal and helps regulate melanin synthesis while respecting and protecting the skin. Lightens the skin, reduces the size of pigmentation marks and prevents them from appearing. Inhibits melanin synthesis. Improves the strength and quality of the epidermis. Unifies and brightens the complexion. Balances pH on the skin's surface.
TREAT-SERUM
IS Clinical Pro-Heal Serum Advanced is a powerful, yet gentle, serum that features Vitamins C, E and A to heal, illuminate and revitalize compromised, blemish-prone and aging skin.
Serum PIGM 400 is a brightening, spot-correcting serum that illuminates the complexion and fights free radicals. It is my personal favorite. Paired with Creme PIGM 400, this powerful duo fights pigmentation and reveals glowing complexion.
Intense C Boost Mela-Even Cream by Environ is another great combination for combating visible skin pigmentation. The Intensive C-Boost contains a powerful form of vitamin C ideal for sun damage, pigmentation, fine lines and capillaries as well as for the maintenance of a healthy skin.
TREAT MASK