By Victoria Shelton, Skincare Expert
A shift in seasons is the perfect opportunity to refresh your beauty and wellness rituals. After enduring dreary winter weather, spring allows us to take a step back and evaluate our current routines and to create better skin and health habits.
Spring Cleaning
Any proper lifestyle refresh begins with organization! Having a dedicated accessory to hold both your beauty and wellness products will remind you to use them daily. This is also the perfect time to clean out both expired and unused products from your current makeup bag.
Anya Hindmarch offers luxe and sustainable travel, cosmetic and organization accessories. Made by professional craftsmen, these bags embody both style and functionality and have an impressive selection to choose from, ensuring that there is the perfect bag to fit your individual needs. Girlie Stuff is a perennial favorite made from durable nylon.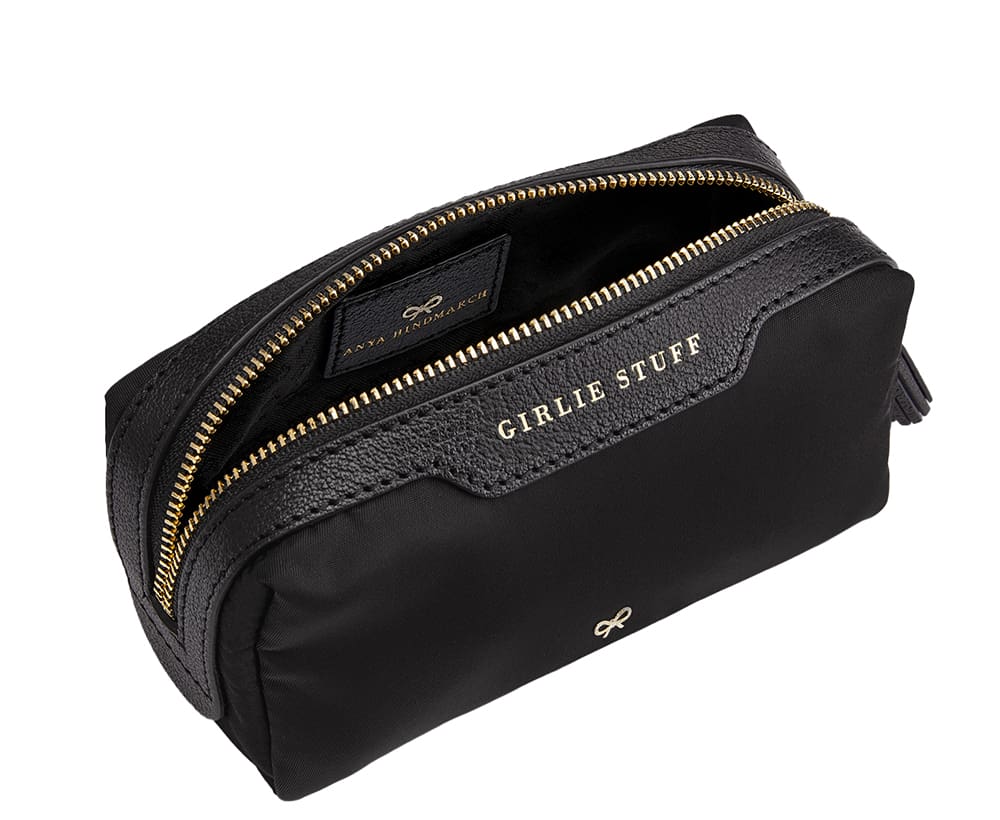 Glowing Skin is Always In!
Secondly, evaluate your current skincare routine and adjust accordingly to reach your skin goals! During the spring, many find that their skin is struggling to acclimate to changes in the weather, and they experience dehydration, dullness and clogged pores.
A few simple adjustments to your daily routine can easily remedy this. Swap in some clean beauty powerhouse products to reveal a fresh and rejuvenated complexion! This new generation of clean beauty skincare uses potent, plant-based active ingredients for noticeable results. Crafted with quality and efficacy in mind, these products are guaranteed to transform your skin.
Adding in a toner is a small step that can have immense results! The D22 Tonic from Danucera is the ultimate complexion perfector! This potent formula is packed with natural acids, minerals, enzymes and vitamins, making it a must-have that works on every skin type to exfoliate, tighten and unclog pores for gorgeous skin instantly!
If you aren't already, this is a great time to incorporate double cleansing into your routine. The double cleansing method ensures that all makeup, residue and excess oil is removed from the skin and is the fundamental first step to any skincare routine. Incorporating a nourishing cleansing balm allows you to ensure a deep cleanse while also preventing dehydration! Cerabalm is a clean beauty multi-purpose balm that reveals fresh, hydrated skin. Ideal for all skin types, and packed with nourishing minerals and botanicals, skin is left instantly and visibly improved, with a firmer, smoother and more radiant complexion. Pro-Tip: Cerabalm can also be used as a mask when your skin needs a little extra TLC!
Be sure to also add topical collagen into your skincare routine. Collagen is an essential skin element and is what gives our skin that coveted plumpness and elasticity. As we age, our natural collagen production decreases, which can lead to skin that looks and feels lax and dehydrated. To combat this, a collagen replenishing treatment can help restore your skin's bounce! Our go to comes from the iconic French skincare line Biologique Recherche. Their newest serum, Collagene Originel, is formulated around Type-0 collagen, and is the only formula on the market to do so. It works by boosting production of the 4 main types of collagen while redensifying the skin to reduce wrinkles length and prevent the appearance of new wrinkles.
Facial Massage
Facial massage and microcurrent devices have become a hot topic in the beauty industry and social media, and for good reason! Whether you are utilizing manual techniques such as gua sha or high-tech devices, these targeted techniques are proven to tighten and lift the skin, minimizing puffiness, fine lines and wrinkles.
The Danucera Sculpting Stone is a simple addition to your routine with massive results! Crafted from 100% natural white jade to heal the skin, release toxins and increase mental clarity, this tool lifts, tones and depuffs the skin to smooth out lines and wrinkles and contour the jaw.
If you are interested in a more high-tech option, the NuFace microcurrent device targets the facial muscles to visibly lift the skin and plump wrinkles. The NuFace also offers unique attachments such as red light therapy to target multiple skincare concerns.
Apply SPF
Finally, regardless of the season, SPF should never be skipped and is tantamount to your skin's health. Unfortunately, it is also the most overlooked step in most people's routines. FInd an SPF that works for you and be sure to bring one with you to reapply every two hours. Sunscreen prevents hyperpigmentation and wrinkles, but is also integral in preventing skin cancer.
Supplements
Your wellness routine should be both external and internal for best results. Supplements are a fantastic way to improve your skin and your general health. One of the most highly praised supplement brands, Cymbiotika, has numerous options for a myriad of concerns.
One of their most popular supplements is the comprehensive NMN (Nicotinamide Mononucleotide) to boost energy levels, regulate metabolism and maintain healthy DNA. This impressive supplement combines NMN, resveratrol and polyphenols for healthier aging. We also recommend the nutrient dense Shilajit or the Liposomal Glutathione for those looking to promote gut health!
Invest in your Well-being
This spring, take the time to take care of yourself! A few small tweaks to your daily habits can make a world of difference when it comes to how you look and feel! If you have any questions or need any assistance in finding the best products for your self-care rituals, please reach out to us at shop@rescuespa.com and one of our knowledgeable experts will happily assist you!
Shop Beauty Aficionado: