Bio Lifting Cream Plus lifts, reshapes and replumps, by harnessing the power of 10 million plant stem cells in a jar.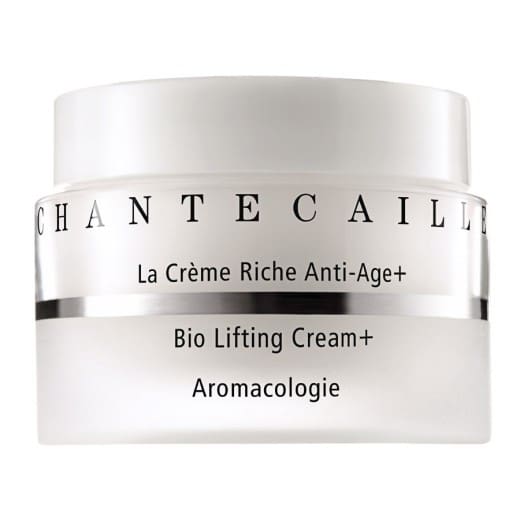 The supercharged version of Chantecaille's iconic Bio Lifting Cream. This velvety smooth creme riche is infused with five extraordinary plant stem cells- Caffeine Free Coffee Stem Cell Extract, Plantago Stem Cell Extract, Bionymph Stem Cell Extract, Raspberry Stem Cell Extract, and Daphne Stem Cell Extract – that lift, rebuild, re-plump, reshape and de-age. Notable results from using Bio Lifting Cream + are a 25% decrease the appearance of fine lines and 15% restoration of skin tone in one month; and a 45% reduction in wrinkles in two months. Loss of of volume and skin sagging is minimized; skin tone is restored and fine lines are visibly reduced; and skin is weatherproofed 365 days a year.
Caffeine Free Coffee Stem Cell Extract provides a three-pronged approach that lifts, plumps and hydrates by boosting adipocyte formation and increasing internal water circulation in the skin. This stem cell also decreases skin roughness and makes skin more supple.
Plantago Stem Cell Extract increases the thickness of the epidermis by 15% and notably lightens pigmented age spots by 31% after two months.
Bionymph Peptide Stem Cell Extract fights the anti-aging process on all fronts. Boosts collagen I and III by 207% and 122% respectively. Protects DNA from free radical damage. Energizes the cell. The appearance of fine lines is decreased by 25% in one month.
Matrixyl™ 3000 Tripeptide, recently named one of the strongest wrinkle fighters, is a unique blend of peptides that activates the production of collagen I by 258% and hyaluronic acid by 179%. Skin tone restored by 15% and wrinkles reduced by 45% in two months.
Anti-Wrinkle Hexapeptide exists in double the concentration in Bio Lifting Cream +. Reduces the depth of expression wrinkles up to 32% in one month.
Raspberry Stem Cell Extract is a major anti-oxidant that fights inflammation and inflamm-aging. Shields skin from premature skin aging by reducing the inflammatory response, preventing oxidative damage and enhancing cellular longevity and boosting collagen I and III production. Delivers an immediate soothing effect and long-term protective activity.
Daphne Stem Cell extract, Winter Daphne, a plant that is known for its ability to thrive in freezing alpine climates, protects dry skin in harsh winters. Shields skin from damage caused by harsh environmental factors such as wind and freezing temperatures. Increases sebum production and helps repair cutaneous micro-lesions that result from dry, weak skin due to cold. Skin hydration increased up to 65% in one month.
Imperata Cylindrica Extract, known for its ability to thrive in arid climates, helps skin to store and retain moisture efficiently – even in the driest weather. Moisturizes the upper layers of the skin maintaining more than 50% hydration continuously over 6 hours and for up to 24 hours.