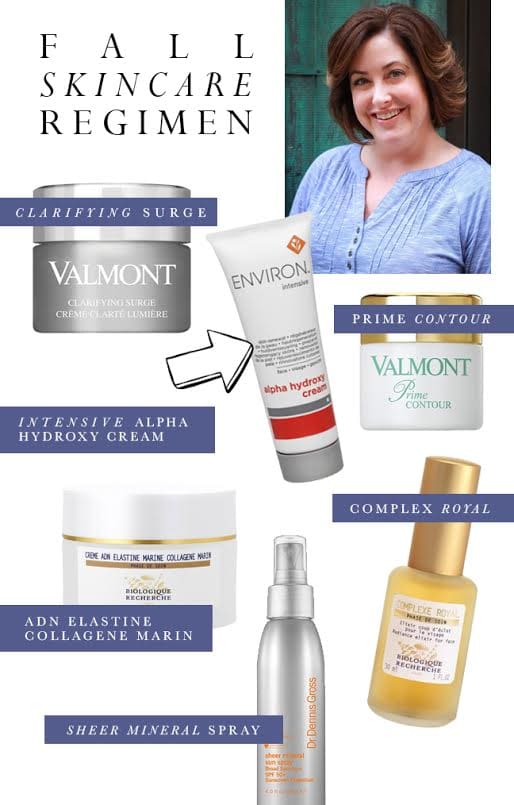 As the seasons change,  so does my skin care routine.  Lait U and P50 1970 every morning and evening. Valmont face scrub followed by Masque Visolastine E. every 4 days and in between, Masque Vivant. Yes, I do something extra for my skin everyday.  Both masks can stay on for 10-20 minutes. Masking and exfoliating on the same night is a really wonderful way to give your skin the added punch of active ingredients. That's why P50 1970 should be used daily. Even that slight exfoliation will increase the efficacy of all of your products. I will continue this probably through October.
And that's just the beginning. The truth is,  after the basic cleanse, exfoliate and tone; hydration, serums and sun protection always baffle clients. In the evening, I think of repairing my skin.  Clarifying Surge from Valmont and Intensive Alpha Hydroxy Cream from Environ alternated for this darn sun damage. I always use Valmont Prime Contour or Factor 3 under my eyes at night. During the day, Factor 2. All from Valmont. Day cream is Creme ADN Elastine Marine Collagene Marin and Complex Royal, layered from BR. Now that fall is truly here, I'm going to modify my daily SPF. The Mineral Spray from Dr. Gross is an SPF 50. Normally I would go down to a 30 but because of my sun damage,  I will be getting a few photo facials in the coming months.
Check back in November to see what winter has in store for my skin!
Rescue Esthetician,
Samantha Lowe