Beautiful skin is a long term commitment.  I encourage women to stick to the basics, not to over-commit at the beginning. Simplify your beauty routine, but don't skip it.
Make sure you cleanse well.  I recommend the Clarisonic Pro brush especially if your skin is oily and you have large pores.
After cleansing use a mild lactic acid based product like Lotion P50 to exfoliate gently.
Since it's winter I like to use a serum like Fluide VIP O2 in the morning followed by a moisturizer with an SPF.
At night it's time for repair.  Cleanse, tone, and use products full of antioxidants, peptides, retinols and Vitamin C.  My favorite is Environ's AVST or Valmont Factor III, they both contain all of the above.
Apply a moisturizer with an SPF on the back of your hands.
Remember good grooming is always in style.  A perfectly prepped face saves mirror time in the morning so get facials regularly and make sure your eyebrows are shaped well.
The balance between body and mind can affect the appearance of the skin.  Exercise, meditate, drink plenty of water, eat healthy.  Smile and be happy, that's the best cosmetic!
Beauty Aficionado Founder & Aesthetician,
Danuta Mieloch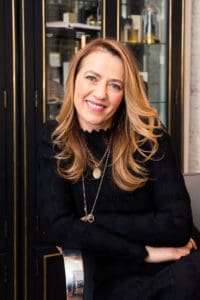 Tweet