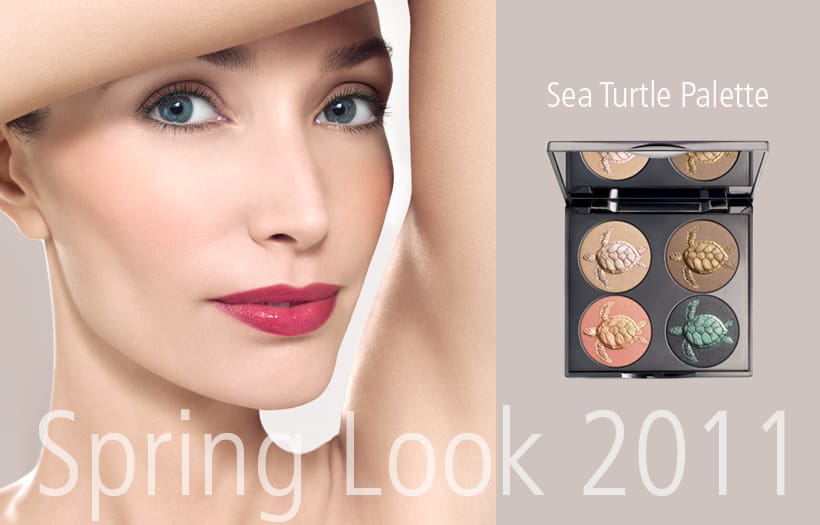 With a new season here it's the ideal time to add some spring neutrals to your makeup bag! With the new Chantecaille palette you have the perfect tool to create highlighted rosy and coral cheeks, as well as a deep green sea turtle to craft defined eyes. You also have two
radiant neutral eye shades to really make your lids pop! The sea turtle palette is made with
the finest pigments of pearl to fashion a natural glowing effect on the skin. Not only does
this stunning palette make for a fabulous makeup application, but 5% of proceeds will go to WIDECAST (Wider Caribbean Sea Turtle Conservation Network) to help ensure the survival of sea turtles! These remarkable colors will sashay you from spring to summer on trend and saving the world!
Sea Turtle Palette
Application Instructions
EYES
Use the Eye Contour Brush to sweep the BASE color (Sand) from the lash line to the brow bone area.


With the Eye Basic Brush apply COLOR (Turtle) to the eyelid from the base of the top lashes to just above the crease.


Intensify the base of the top and bottom lashes by using the DEFINER color (Sea Grass) with the Eye Perfector Brush; follow the natural shape of the eye accentuating the outer corners. For added definition use the Eye Liner Brush slightly dampened with Pure Rosewater.


Apply two coats of Faux Cils Mascara to top and bottom lashes.
Esthetician & Spa Concierge,
Darby Stohner
Tweet