During my facials I like to combine Eastern European traditions, new technologies, science, and the luxury of great products and treatments. My main priority is to give each client a facial with the best cleansing, exfoliating, hydrating, rejuvenating and lifting effects on the skin. Today I would like to talk about the effects of specialized massage techniques such as deep muscle lifting, lymphatic drainage, and acupressure. There are over 50 muscles in our face. The same as it is with our body our facial muscles also become weak, so massage brings many benefits to the skin including:
Lifting and tightening.
Improved circulation and oxygenation.
Rehydration of dry skin as massage allows the products to penetrate deeper.
Tension relief which creates a relaxing effect. Skin appears fresher and lines & wrinkles smoother.
Don't be afraid to massage your own face… the face responds particularly well to touch as it is packed with small, sensitive muscles and so richly endowed with endings.
I like to self massage with Renewing Pack by Valmont, a favorite multi-tasking product of mine. It's a thirst quencher for your skin, non-greasy and great for all skin types.   To begin: apply Renewing Pack generously at the neck, using upward sweeping movements and spending extra time at the jaw line (to prevent sagging).  Next, using the pads of your fingers continue to massage the face with slow circular movements (begin from the chin, moving outwards).
When you reach the eye area use your middle fingers in a counter clockwise motion like you're tracing large circles around the outer eye area (apply more pressure above the eyebrows and lighter pressure as you move under the eyes). This movement greatly improves dark circles and depuffs the eye area instantly.
Moving along to your forehead continue massaging upwards and outwards toward the temples. Repeat a few times. Finish with acupressure points using a press and release technique. Use the chart below for guidance, practice and have fun doing it!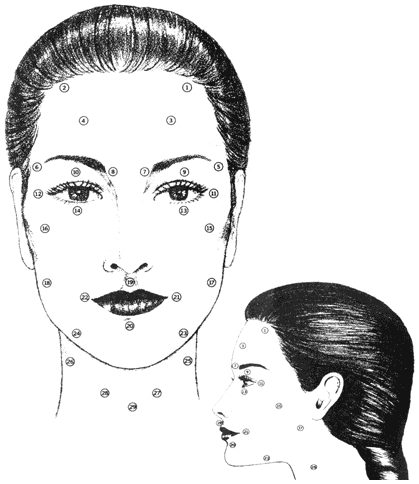 Aesthetican & Beauty Aficionado Founder,
Danuta Mieloch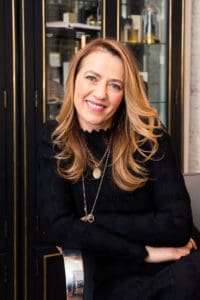 Tweet