By Kate Elliot, Esthetician
The day many people dream of is finally in sight. You stare at your sparkling ring a million times a day and the butterflies flood into your stomach with each glance. While this is such an exciting time, that excitement can easily get lost in the pressure to find that fits-like-a-glove dress and the most picture-perfect flowers. Now add the stress of showing up as your most picturesque self to the list. I have worked with countless brides to prep their skin for the big day and the pressure of perfectionism can create panic for many brides-to-be.
Set a Goal
Before you go off and binge at the "skincare buffet", as Danuta Mieloch likes to say, it's important to set a specific goal for your skin. Do you have breakouts you want to get rid of, or is your pigmentation your biggest concern? Narrowing down to a set goal and being consistent will have the most payout in the end. The time before your wedding is not the time to be trying every skincare trend on TikTok.
When creating a goal, managing expectations is an important step, and your skincare preparation is no different. We all want that smooth and silky appearance, and for some, it's just about maintenance. For others, the road can be a little more rocky. We all have pores and texture and maybe even a blackhead or two. It's normal, and accepting this and setting realistic expectations for your skin, will ease some of the stress of achieving that perfect glow. Of course every bride should look and feel beautiful, but putting added pressure on yourself to be a real-life Instagram filter isn't going to do you any good. You can take these simple steps to get your skin the healthiest it can be before the big day.
With that being said, finding an esthetician that you like will make a world of a difference when looking for the perfect routine. Your esthetician will evaluate your skin and talk to you about your concerns to help tailor your routine to your goals and skin type. This takes the guesswork out of the equation for you. And if pre-wedding facials are something you want to do, they can map out a treatment plan according to what fits in your life routine.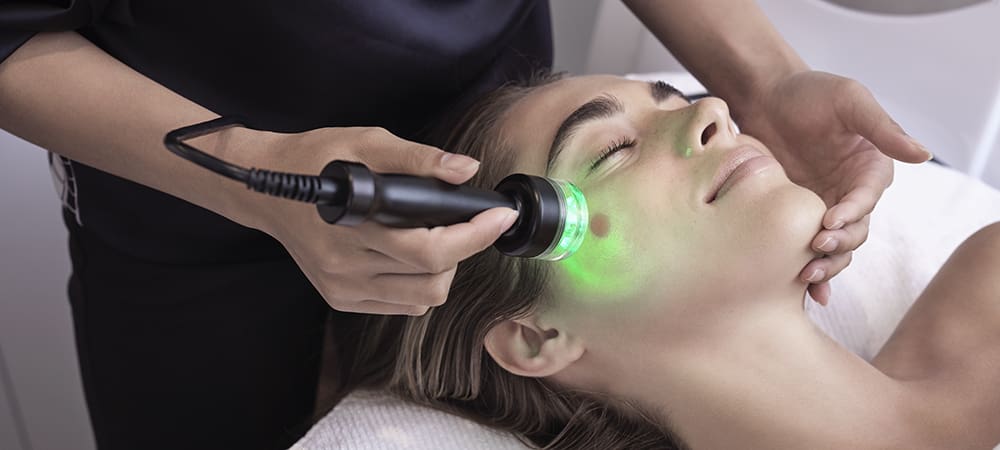 Many brides choose to start getting facials as far as 12 months before the day of the wedding. Lasers and peels are great to do in this time frame which is a great way to accelerate results. I suggest this if you have stubborn acne or pigmentation so there is ample time to treat the skin and let it heal between more aggressive treatments.
For others, 6 months before works just as well. This will give your esthetician time to get to know your skin and ensure that your routine is the right one for you. And if you haven't started yet and your wedding is just around the corner, book yourself a customized facial to get you wedding-ready fast. Depending on your skin, your esthetician may also suggest a regimen for your daily routine. My favorite facial to give brides is the IonixLight Facial. This treatment work on texture as well as leaving you with a lifted, plump, and contoured appearance.
A week before, the anticipation is setting in. Sometimes this makes us want to use every product under the sun to ensure our skin is of top-notch quality. But this can be counterproductive. Instead, this is the time to keep it simple and stick to lots of hydrating and soothing products. It's also important not to do anything out of the ordinary in your routine to ensure you don't experience any adverse reactions. The final week is when you should go in for your pre-wedding day facial in order to prep the skin for optimal radiance and seamless makeup application.
The Big Day
For the most flawless canvas on the big day, hydration is key. A light scrub and a hydrating face mask will go a long way to smooth out any residual texture. If you find yourself with a breakout that day, don't touch it! Use ice to calm and help with swelling and a deep cleansing face mask. And most importantly, don't panic! Stress will only make it worse.
Achieving the skin of your wedding day dreams won't be as stress-inducing on your list of to-dos. Remind yourself to be present in the process and enjoy each step. Your skin and your make-up artist will thank you.
---
More product recommendations: