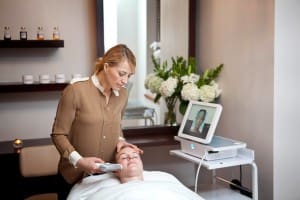 Skincare has always been my passion. Growing up in Poland, where the weather is harsh, cold-windy winters; dry-sunny summers, caring for your skin is a daily necessity. Naturally I started learning about skin early on, having two older sisters and my mom as my first mentors. My first memories are of applying thick cream to my face and hands, before going out to play in the snow, hearing my mom say "protect your skin, it's cold outside!". In the summer we always wore hats and played in the shade (those were the times, before sunscreen).
It was in Poland, where the culture of a beautiful complexion has been always present, that I learned my first skills in maintaining glowing, healthy skin. I was always eager to learn the whole science of health and beauty. While Polish women are known for being practical, at the same time they don't mind spending money on little jars of luxurious cream a happy balance.
In my later studies in beauty seminars and workshops in Paris, I learned that French women famously take good care of their skin; having a facial once a month is a must for them. I perfected my facial massage in Paris, and I believe in restorative benefits of a well performed facial massage. (I'll talk more about this subject in an upcoming blog post.)
During this blog post I'll describe the choices we can make to achieve glowing skin:
Diet
I care very much about what I eat. I follow a balanced diet with no specific name, yet I incorporate lots of vegetables, homemade vegetable juices, wheat grass shots, and enjoy my regular restaurant outings. I have never believed in any diet fads, but I do believe in staying the same weight for optimal skin. Losing and gaining weight takes it's toll on the skin's elasticity. I also take vitamin supplements that are customized by my naturopathic doctor.
Exercise
I vary my exercise routine with Ashtanga Yoga, cardio, and I lift weights. So my life is pretty busy, so much that my own skincare regime has to be simple yet effective.
The science of good skincare should not be found just in the laboratory, but also on your bathroom shelves. Instead of thinking about "skin types" I prefer to remember that skin is an ever changing body organ. Our skin conditions change by season, by day, and even throughout a single day. That's why it's wise to consult a skincare specialist to develop a step-by-step guide to the best skincare program for you. At Rescue every member of our skincare team is trained to recognize your skin condition and prescribe the best program. We also offer free consultations to everyone, that's how dedicated we are to beauty.
Good skin care regime
Any good skincare regime begins with proper cleansing. I advise every woman to develop a cleansing ritual which will serve as the necessary foundation of good skincare. Without it you simply cannot achieve healthy, beautiful skin. Everyone can benefit from using a mild cleanser like Biologique Recherche Lait U or Cellcosmet Milky Cleanser. At night I suggest to cleanse twice, with the second cleanse use a washcloth, gently patting, yet making sure the skin is cleansed well. I like to finish off with a cold rinse (an old Polish trick!). As a second step, use a gentle balancing, exfoliating lotion. My favorite is a P50 lotion. I also like Environ alpha beta and hydroxy lotions, because both contain fruit acids which are very effective exfoliators.
Almost everyone's skin also will benefit from using mild retinols. It is important to start with the lowest level of retinol and then work your way up in intensity. Patience is very important here. It takes a while to get used to using active ingredients. Retinols should only be used at night, and always be sure to protect your skin during the day with an SPF 30 or higher. I like using my retinol every other night and on alternate nights I use antioxidant serums. I never forget to use my eye cream. I have been using eye cream since I was 15! Make it your habit too, you will thank yourself later. I promise.
Also remember that your skincare regime is not just about your face, but your neck, decollete and eyes! Make sure to pay attention to the rest of your body as well. I exfoliate with a body scrub twice a week while I have a facial mask such as Masque Vivant on, and always moisturize my whole body, head to toe.
Finally, have an effective morning routine. Mine is quick and simple. A quick cleanse, P50, serum, and a moisturizer with SPF. This whole process takes literally 2 minutes. I always apply my serum before moisturizer because it helps to keep me hydrated throughout the day. If I have an extra 15 minutes in the morning I'll use Renewing Pack. It is very refreshing, like a thirst quencher for your face. It gives me an instant glow.
See you next time. Until then remember: beautiful skin is a matter of choice, not chance!
Owner of Rescue Rittenhouse Spa