By Kate Elliot, Esthetician
With the number of skincare products out there, it can be confusing where they go in your routine, and Biologique Recherche doesn't fall short on the variety they offer. You may have your curated routine sitting in front of you on your vanity at night, but figuring out how and when to apply them can be daunting and trial and error doesn't always yield the results we would like. Whether you are new to the brand or just need a little reminder on how it's done, here is your step-by-step guide to mastering your Biologique Recherche routine.
Biologique Recherche Skincare Routine:
Cleansing
Let's take it from the top. Cleansing should always be your first step before we start the layering process. Cleansing is one of the most important steps in a great skincare routine. This is your time to thoroughly cleanse your pores and remove all makeup, dirt, and oil that has accumulated throughout your day. We recommend double cleansing to everyone. The first cleanse removes surface debris such as makeup, and the second cleanse actually cleanses your skin. Whether with Biologique's Eau Micellaire Biosensible as a first cleanse or just doing two cleanses with your favorite milk cleanser like Lait U, it's super important we start with clean, fresh skin.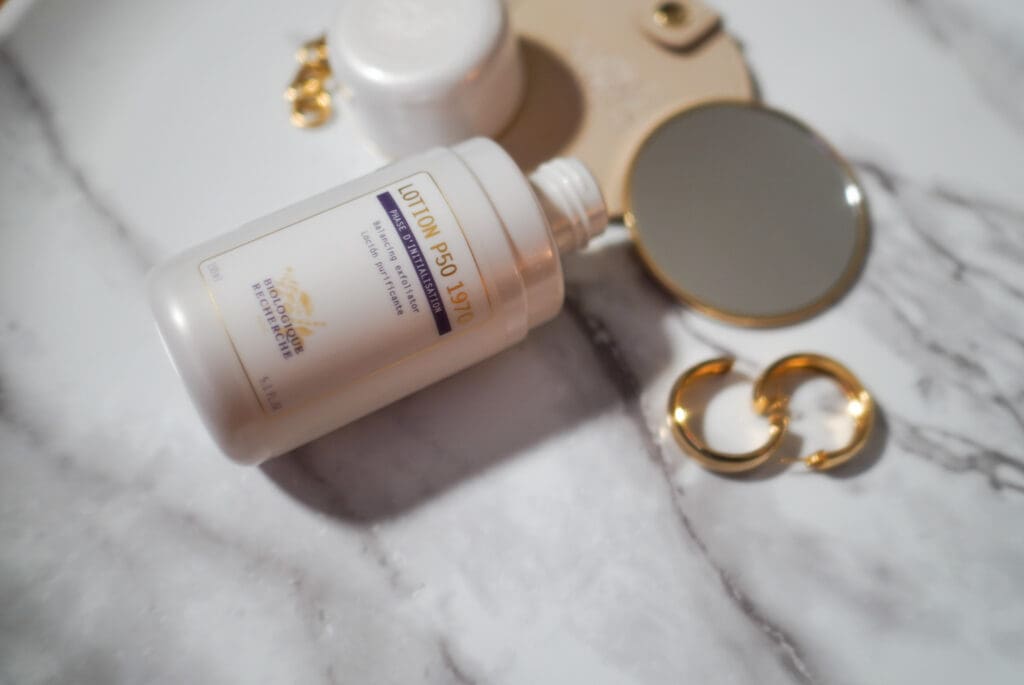 Toning
If you are new to the brand or have been an avid user, you probably know of Lotion P50. It is the staple product in any Biologique Recherche skincare routine. With 6 different formulas to choose from, there is one for every skin instant. This step balances, exfoliates, and prepares the skin to receive the rest of your routine. Put a moderate amount of the product on a cotton round. Starting at your chest, pat the saturated cotton round into the skin, working your way upwards and out. Be sure to apply it to every part of the face paying extra attention to congested areas, and being more mindful around the delicate eye area. A little tingling is normal, especially when you first start using the product. Allow to absorb and your skin is ready for the next step.
Booster
Now would be the time that you could incorporate a booster product into the routine. L'Eauxygenante can be used after P50 to add an extra layer of hydration and antioxidant protection. This refreshing mist can also be used anytime throughout the day when your skin needs a little pick-me-up or to set your makeup. Another amazing product that fits into this part of your routine would be Lotion MC110 N1. This plumping and restructuring lotion exfoliates and diminishes fine lines leaving the skin more even and toned. Ideally should be used as a 10-day treatment once a month or twice a week in your normal routine.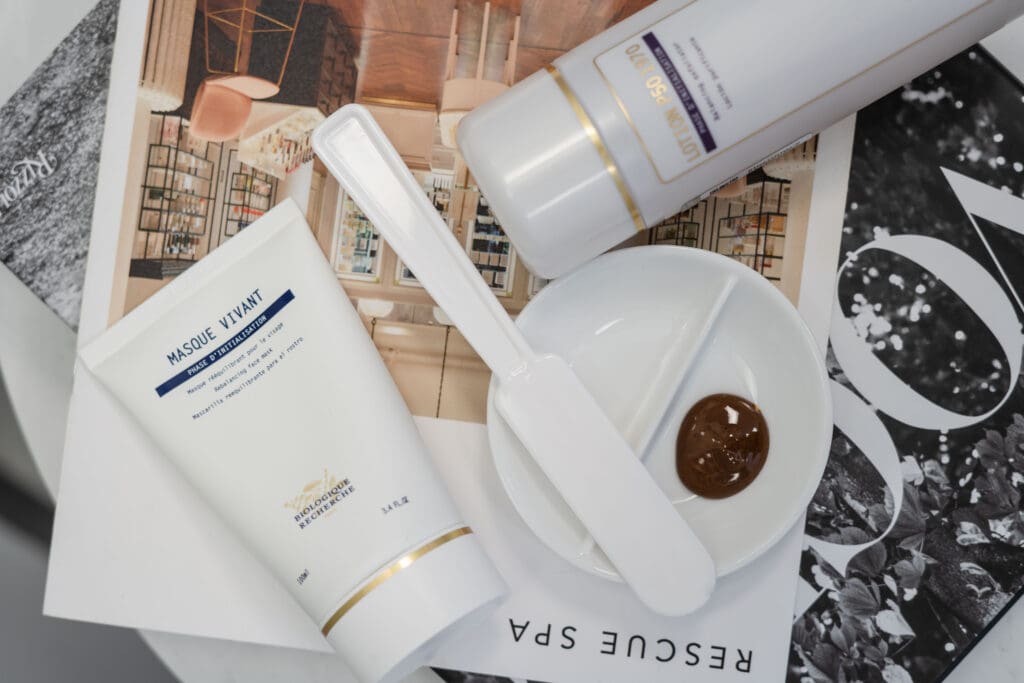 Mask
It's no secret that Biologique has amazing masks. One of their most talked about is Mask Vivant and not just because of its distinctive scent. It has powerful purifying and balancing properties that can work with any skin type. So if you haven't tried it, go add it to your cart now. But with any mask you choose, whether Masque VIP 02 or Biomagic, you can't go wrong. All of their masks can be used alone or mixed together to create a customizable experience for what your skin needs in that instant. Masking is an often overlooked part of a skincare routine, but when done regularly, can be a pivotal step in your journey to healthy skin.
Serum(s)
Here is where it gets tricky for a lot of people. With the number of customizable serums, it can be hard to know how you should apply them. Always apply targeted serums first like Serum Erythros or Serum Matriciel Visage. Once absorbed, you can then apply your quintessential serum. All of these serums can be mixed together or used alone. These serums offer you a personalized approach to skincare. They target specific concerns such as dehydration, wrinkles, or even sebum regulation. You can use as many as you see fit, but 3 is usually a good number. I like to put a couple of drops of each into the palm of my hand and apply them at the same time in a pressing motion onto the face. You can also take the time here to apply your serums to specific areas such as the Serum Liposmose to the eye area. Let these sink into the skin and you are ready to move on to your next step.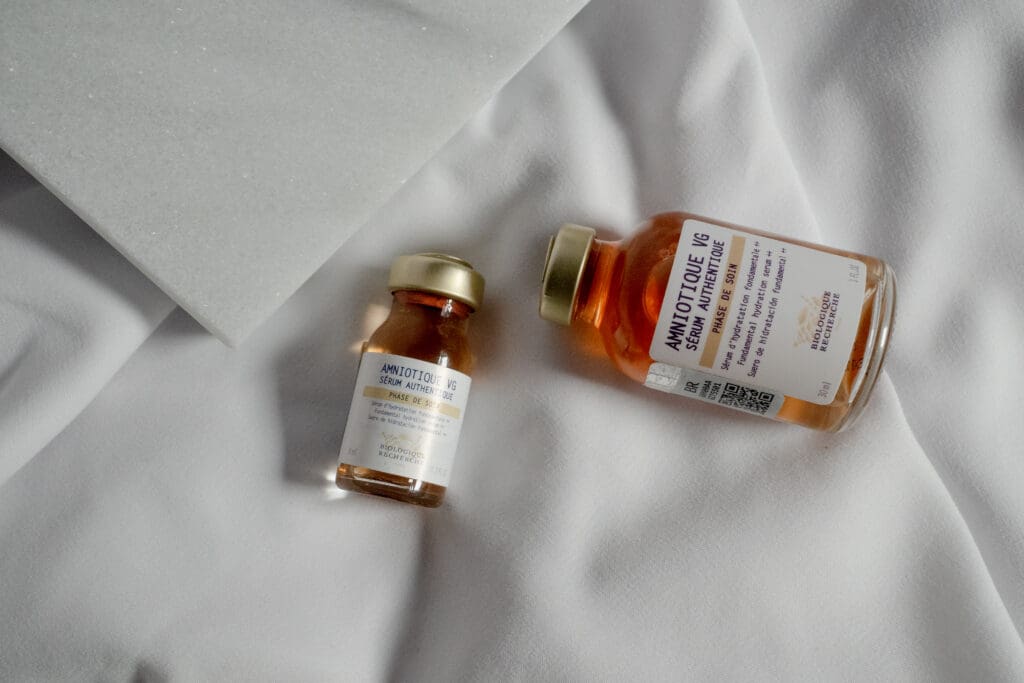 Eye Cream
The correct time in the routine to apply eye cream seems to be up for debate, but I find it to be best applied before your moisturizer. The texture of eye creams tends to be lighter and with a smaller molecule size for penetrating the delicate skin around the eye. For this reason, applying it before moisturizer ensures your eyes will be able to absorb every last drop.
PRO TIP: General rule of thumb for properly layering your products is to apply them from thinnest consistency to the thickest. This ensures that your skin can properly absorb each layer.
Moisturizer
From Creme Dermopurifiante to Creme MSR-H, there truly is a cream for everyone. Pick your favorite and gently massage it into the skin until absorbed. Their creams are richly concentrated without ever being greasy. They are designed to complement the serums to give you the best results possible.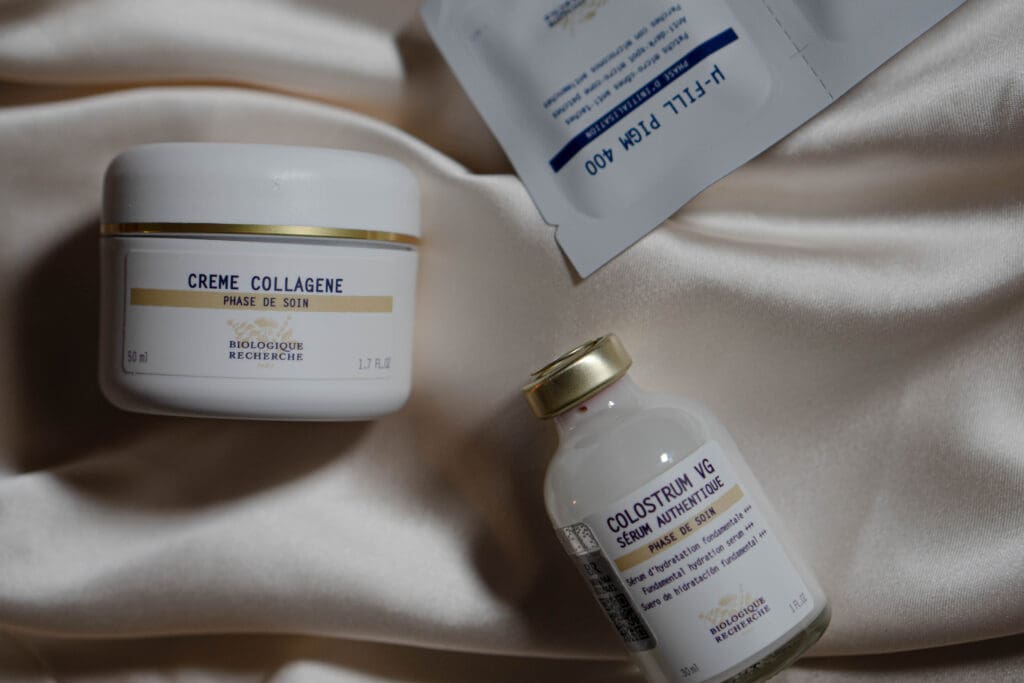 Finishing Serum
The final step is one unique to Biologique Recherche. Their finishing serums add radiance to the skin and truly give you that coveted French-girl glow. These serums are different from the targeted or quintessential serums because they are formulated with larger molecules. They are specially designed to stabilize and seal in the rest of your skincare, adding hydration, protection, and glow. They can be used every day, or cherished for special occasions. I suggest trying them as a makeup base for a flawless application.
And just like that, you're a Biologique Recherche aficionado. If you can master this routine, you can do anything and you'll be on your way to gorgeous skin, that's for sure. A true labor of self-love!
---
More product recommendations: