Do you know what's worse than jet lag? Jet-lagged skin. Whether we are taking a quick flight or traveling into different time zones, jet lag has a direct impact on our skin! Airplane air can leave our skin dehydrated, dull and more prone to breakouts. In addition, traveling to and from different climates can cause our skin's pH to fluctuate. We can try and prevent the inevitable as much as possible, but recovering from jet lag requires a bit more TLC.
---
Step 1: Hydrate
Travel, especially by plane, can be very dehydrating. To combat this, start hydrating before your trip, during your trip and especially after! If you're looking for a water enhancer to bring with you, try the Molecular Hydrogen from Cymbiotika. Just dissolve one tablet in 12-16oz of water to help neutralize the harmful effects of free radicals, reduce oxidative stress and maintain homeostasis in the body.
Now that you're hydrated internally, let's focus on hydrating externally. What you use to begin your skincare routine matters, so starting with a cleansing balm, like Cerabalm to remove makeup, SPF and dirt from travel is ideal. This balm works for every skin type to thoroughly cleanse the skin while nourishing and protecting it. Apply it on dry skin with dry hands (could not be easier!) and gently massage it into the skin; watch your day of travel melt away.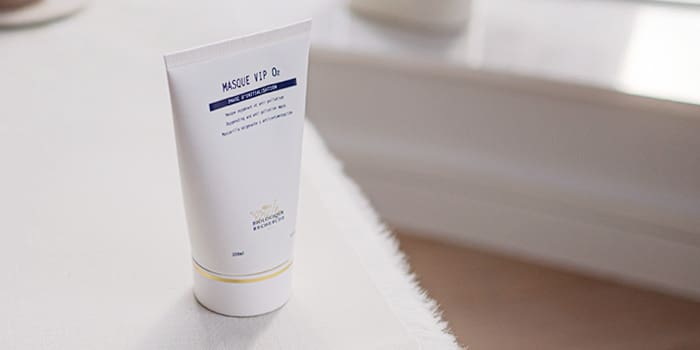 Masking is a great way to instantly hydrate your skin and give you a reason to relax for 20 minutes. The Biologique Recherche Masque VIP O2 is the perfect post-flight mask! It is an oxygenating and moisturizing treatment that will revitalize dull and tired skin. Keep it in the refrigerator before applying to soothe and depuff the skin!
*Tip: Try it around the eye area!
---
Step 2: Restore your skin barrier
Sometimes after travel it feels like we need to be reborn – a total reset. Well, the Creme Masque Vernix is the closest thing possible to that feeling! Rich in fats, protein and antioxidant peptides this cream mask stimulates vernix to leave your skin restored, revitalized and protected!
*How to use: Can be used as an overnight mask, applied over moisturizer and slept in OR for an action-type mask, apply a thick layer on entire face and leave on for 10 minutes
Environ's Malachite-NP Complex Serience Night Serum will refresh and recharge your skin overnight! It is a powerhouse peptide product that will help target the visible effects of jet-lagged skin as you sleep as well as reduce visible signs of aging. 
*Tip: For advanced Environ users, use the Cosmetic Roll-CIT prior to the application of the Serience Night Serum
---
Step 3: Quick fix
We don't always get a vacation after vacation, so if you are in a time crunch but still need to revive your skin, here are some quick yet effective fixes!
Valmont Eye Instant Stress Relieving Mask
These are high-performance anti-fatigue eye masks that work in just 20 minutes! Your eye area will drink up this potent cocktail of active ingredients, smoothing wrinkles and reducing puffiness and dark circles.
A 5 to 15 minute treatment meant to activate microcirculation and promote detoxification. Apply after cleansing and toning your skin and let the bubbles do the work.
---
Step 4: Catch up on your sleep
Arguably, the most important thing you can do to recover from jet lag and jet lagged skin is to sleep! After you finish applying your OMC (overnight mask of choice), put on your most comfortable pajamas and sleep mask and let your skincare and circadian rhythm do its thing.

If you follow along with these tips and stay consistent, your skin will recover from jet lag in no-time! If this sounds like too much work and really want to give yourself that much needed rest while healing jet-lagged skin, come in for a facial with us and let our estheticians handle it for you! Schedule here or give us a call at 866-772-2766.
---
Shop Beauty Aficionado: