"Beautiful skin is a matter of choice, not chance" says Danuta Mieloch, celebrated esthetician, founder of award-winning Rescue Spa and creator of Danucera. She encourages everyone to take care of their skin for their overall health. This means taking care of your mind, body and soul. Danuta takes us through her fall wellness routine that keeps her grounded.
"My beauty routine starts as soon as I wake up, before getting out of bed I say my affirmations." Practicing daily positive affirmations is a powerful and life changing tool. Affirmations have the power to change your negative thinking patterns and replace them with positive ones, increase your self-confidence and help you to concentrate on achieving your goals. 
Mieloch notes, "then depending on the day I meditate and drink my lemon ginger water." Lemon water is not just for the Tik Tok aesthetic, Mieloch swears by her morning lemon ginger water to detoxify and refresh the body before starting the day. Don't be fooled, espresso is truly the one waking her up, though!
Lighting incense really sets the tone for the meditation as well. Sometimes Mieloch opts for the Incausa Chacrona & Jagube resin incense. These are often used in healing rituals to ward off dark spirits and invite in good energy.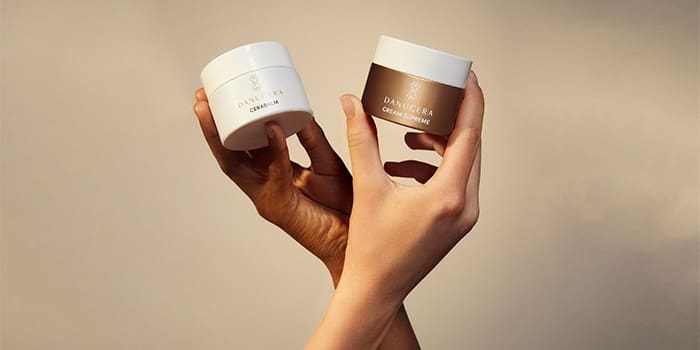 "Some days I'm a minimalist when it comes to my skincare routine and some days a maximalist. I look for products that bring a luminous, glowing complexion instantly and long term. Glowing skin is always in," says Mieloch. If it is a minimalist day, she will stick to a full Danucera routine, using the essentials! Cerabalm as her cleanser, D22 Tonic to tone and prep the skin, Cream Supreme for hydration and protection and of course an SPF. "No matter how busy my day is, I always find time to take good care of my skin."
---
A Danucera Routine
As we enter into fall and winter, Danuta up's her exfoliation by using a retinol, specifically the IS Clinical Retinol+ Emulsion 0.3. When using this high concentrated retinol she pairs it with her Cerabalm to calm, nourish and hydrate the skin. Cerabalms key natural active ingredients work for every skin type and offer instant, visible results: a firmer, smoother, more radiant complexion.
Glowing skin is always in with the D22 Tonic. Its clean beauty formula is packed with natural acids, minerals, enzymes and vitamins to be effective for every skin type. D22 Tonic leaves the skin smoother, softer, more even and more luminous…instantly. On a cotton round, gently press into the skin with upwards motions. 

The go-to universal moisturizer, to leave the skin perfectly hydrated, nourished, firmer and more protected. Packed with peptides and active ingredients to leave the skin glowing! All you need is a pea sized amount for the whole face.
Before fully getting ready for the day ahead, Mieloch typically works out in the morning whether that be yoga, strength training or cardio. She likes having some form of movement in the morning to set her energy and mood for the day ahead.
As we know, keeping with a skincare routine is important to achieve our skincare goals, as is a wellness routine. Finding a wellness routine that works for you and your lifestyle is important for your mental, emotional and physical wellbeing.
---
Shop Beauty Aficionado: