By Lisa Dukart in The Business Journals
Less than a year after launching, a Philadelphia skincare brand has hit $1 million in sales and landed a deal with Bergdorf Goodman which will see its line sold in the high-end department store.
Danuta Mieloch launched Danucera last November after years of dreaming up such a line. Starting this month, the brand's first two products will be on the shelves of Bergdorf Goodman and have already launched on its website.
The deal marks the first major partnership for the brand, which is self-funded and up until this point had been sold exclusively via its own e-commerce website and through Mieloch's Rescue Spa locations. The addition of Bergdorf Goodman will comfortably push Danucera past $1 million in sales as it readies to mark its one-year anniversary and Mieloch expects it to be a boon in the year ahead.
That isn't the only big move the young brand is making. On the heels of its Bergdorf debut, Danucera will roll out the next products in the line, with a cream expected in mid-September, followed by a serum a month later. Subsequent products are also expected to be carried by Bergdorf.
The goal for Danucera is to have an eight-piece "capsule" collection of skincare products that address and simplify the needs of consumers and cut through the confusion around the array of goods on the market.
"I wanted to keep it focused, like an esthetician in your medicine cabinet," Mieloch said. That's fitting given that Mieloch has been an esthetician for more than two decades.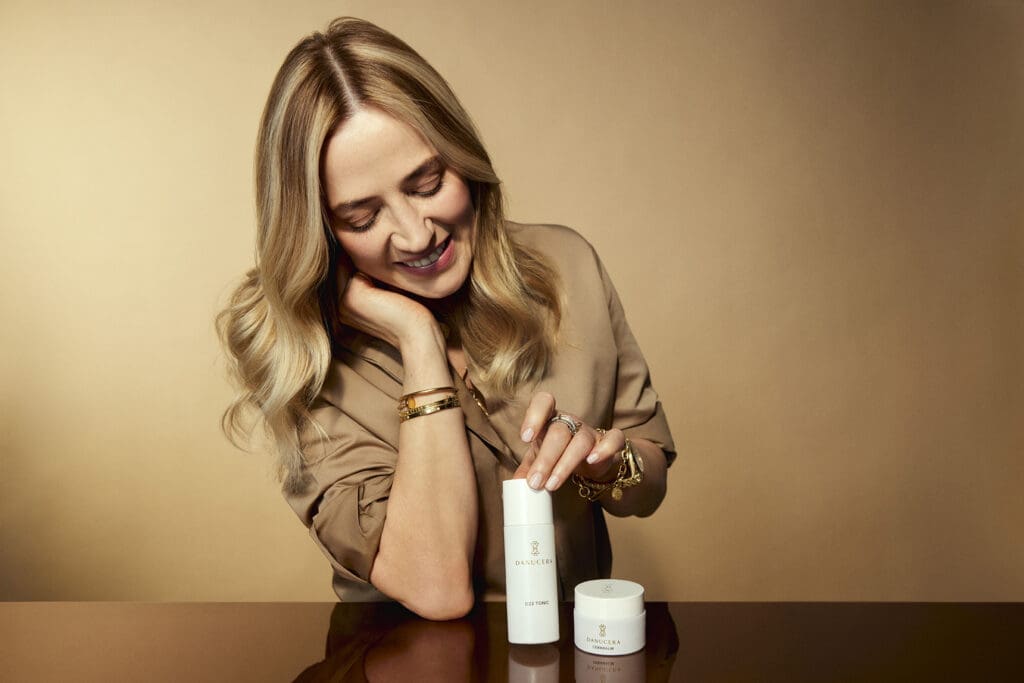 Her experience, paired with the large number of products touted as part of increasingly complicated skincare regimens, is part of what inspired Mieloch to launch the brand in the first place. With so many lines with multiple steps, which she likened to a "skincare buffet," she wanted to cut through the noise.
Skincare has long been an interest of Mieloch, who was born and raised in Poland. As a child, she would concoct her own skincare at home to address her older sisters' problems like acne.
In 1989, just prior to the fall of the Berlin Wall, Mieloch immigrated to the U.S., landing in New York. "I came here with $20 in my pocket and a big dream," she said.
Over the next 15 years, she trained and worked in various spas before deciding to open her own in 2004. Rather than set up shop in New York, she decided on Philadelphia. Today her Rescue Spa – located at 1811 Walnut St. in the Rittenhouse Square neighborhood – spans 9,700 square feet and 15 treatment rooms.
After finding success in Philadelphia, she expanded the spa to New York, where she opened in the Flatiron district in 2017.
As she built the business, having her own skincare brand remained in the back of her mind, but proved elusive with two spas to run. When the Covid-19 pandemic struck in 2020, it finally gave her time to dedicate to it. Prior to 2020, Mieloch had worked with formulators on potential products but never landed on ones that met her specifications. Switching to a French formulator, together they were able to create Danucera's first products.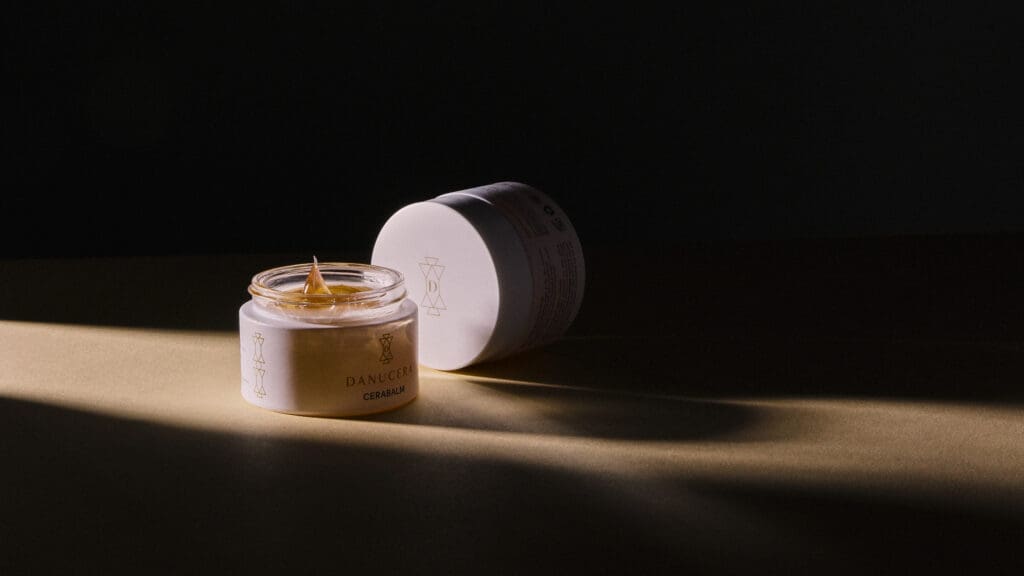 The brand launched with its multitasking product, Cerabalm, last November. The product can be used to cleanse skin, as a moisturizer or a mask. "Basically it does it all," she said.
Its ingredients include sea buckthorn oil and meadowfoam oil, which Mieloch said is "unique because it really resembles the composition in nature to our own sebum." Cerabalm contains both vitamins and amino acids and given its various uses Mieloch likens it to "a facial in a jar."
The product comes in 30- and 50-mililiter sizes, which are $55 and $95, respectively.
Danucera's second product, a toner called D22 Tonic, launched in December. It is designed to exfoliate and brighten skin, unclog pores and reduce redness and the visibility of wrinkles and lines. It contains white birch extract, an ingredient common in the northern climates of Eastern Europe like the Białystok region near where Mieloch grew up, known for its anti-aging properties. The tonic is available in 30- and 100-mililiter sizes which retail for $38 and $88, respectively.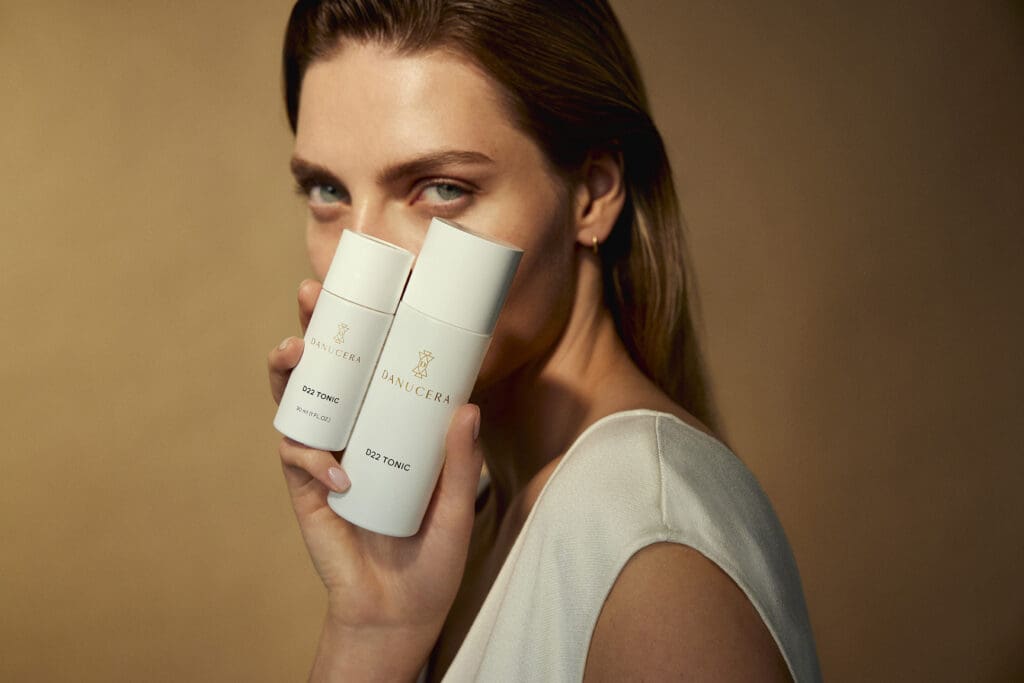 In mid-September, Danucera – a play on Mieloch's first name and the word "cera" which in Polish means complexion – will roll out the third product in its collection, called Creme Supreme. It will be followed by the mid-October release of Mega Serum. The next items, which will round out the capsule collection, will be a mask, an eye cream, a finishing serum and a scrub. The exact timeline for their releases and prices hasn't yet been determined.
Like the existing products, they will be focused on clean ingredients and be intended for all genders and a range of ages.
The products are formulated in France, made in Austin, Texas, and distributed from Pennsylvania. Many ingredients are sourced from Switzerland or Italy. In a nod to Mieloch's roots, the packaging is designed in Poland.
Business currently is split evenly between e-commerce sales from the Danucera website and retail sales at both Rescue Spa locations.
Mieloch has also developed a professional version of Danucera exclusively for her spas, which collectively employ 150 people. "I want to keep the exclusivity to some degree because I'm mindful of how the product is used, whose using it, the training," she said, noting she may one day make it available elsewhere.
That exclusivity is part of why she chose to partner with Bergdorf Goodman for expanding retail. "I want to make sure that the person that recommends the product to a client has a good, extensive knowledge about the product and can recommend it smartly," she said.
The products have gained traction globally, with Cerabalm earning awards from Vogue and W magazine.
Mieloch expects revenue and the brand's reach to only continue growing with the addition of new products and the deal with Bergdorf Goodman.
Read more at The Business Journals.
---
Shop Beauty Aficionado: