Take your skincare routine to the next level! If your routine just isn't giving you the same results as before, this is a good indication that you've reached a skincare plateau. When this happens, it's time to add in a new, powerhouse product to upgrade your regimen!
It's important to remember that our skin is an organ. Just like you would not be able to get all of the necessary nutrients from eating one meal in perpetuity, your skin also requires a varied selection of products for optimal health.
---
Exfoliate for Brighter, more Youthful Skin!
Regular exfoliation helps to remove dead skin cells, purify the pores and leave the skin incredibly luminous! If you are struggling with texture and blemishes, your skincare needs a serious boost!
Best Exfoliating Skincare 2023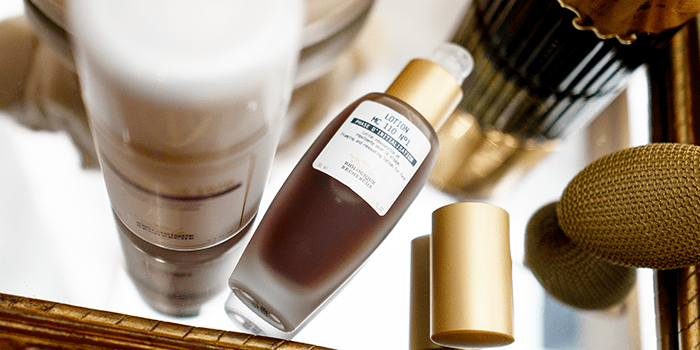 BIOLOGIQUE RECHERCHE
LOTION MC110 NO.1
This potent lotion exfoliates and tones, while also helping to smooth and plump fine lines and wrinkles. For those struggling with texture, use in conjunction with your P50 to eliminate irregular texture and promote glowing skin!
---
The Importance of Using a Serum
Serums contain the highest concentration of active ingredients, making them an invaluable step. Whatever your biggest skincare concern may be, there is a serum that explicitly targets and corrects that issue!
Retinol is considered the gold standard when it comes to ingredients. Whether you are worried about acne, signs of aging or discoloration, retinol has you covered! Read more about retinol here!
Best Retinol for all Skin Types 2023
ENVIRON
RETINOL SERUM
Formulated with high concentrations of Vitamin A, this retinol serum promotes smoother, firmer and healthier looking skin.
---
Correct with a Cream
Moisturizers can do a lot more than just hydrate! Your daily cream can now focus on correcting common skincare concerns, while simultaneously providing hydration.
For those struggling with rough texture, we suggest the Creme Aux Acides De Fruit. This cream contains potent fruit acids that gently resurface the complexion, leaving it velvety soft and luminous.
BIOLOGIQUE RECHERCHE
CREME AUX ACIDES DE FRUITS
For radiant and smooth skin, this exfoliating moisturizer softens and purifies the skin with fruit acids, leaving a healthy, fresh complexion.
---
Tools
Skincare devices are a great way to supercharge your routine! Advancements in cosmetic science has given us amazing benefits, such as the wildly effective LED and ultrasonic soundwaves. There has also been a resurgence in incorporating facial massages into your wellness routine.
Gua Sha
"A tool that has delivered amazing results for centuries but has recently taken over the skincare world is Gua Sha. Rooted in traditional Chinese medicine, this flat, curved stone is used to massage and sculpt the face, leaving you lifted, toned, and glowing. This seemingly simple practice helps release facial tension, move stagnant lymph, and promote blood circulation resulting in a less puffy, and more defined appearance allowing the face's natural contours to be enhanced. When we get the lymphatic system moving, we are allowing toxins and excess fluid to be released. This, along with increased blood circulation, makes for a natural glow to be returned to the skin"

– Rescue Spa Esthetician Kate Elliot
Incorporating facial massage into your daily self-care routine is an easy addition with noticeable benefits! Facial massage helps to promote circulation, firm and lift and assists with lymphatic drainage, leaving skin more radiant and youthful.
DANUCERA
SCULPTING STONE
Integral to the Danucera facial massage method, this sculpting stone lifts, tones and depuffs the skin to smooth out lines and wrinkles and contour the jaw. Crafted from 100% natural white jade to heal the skin, release toxins and increase mental clarity. Pair with Cerabalm for visibly hydrated, firm and radiant skin!
Pucker Up for LED
LED isn't just for skin anymore! Dr. Dennis Gross' newest creation is an alternative to injections and targets the signs of aging as they appear on the lips. Over time, lips appear fuller and more defined!
Best Lip Treatments 2023
DR DENNIS GROSS SKINCARE
DRX SPECTRALITE LIPWARE PRO
This clinically proven LED-powered lip device has 56 LED red lights to target the full lip area. It will visibly target signs of aging such as fine lines, wrinkles and creases while improving circulation for enhanced natural color and visibly fuller, more defined lips.
Purify your Pores
If you struggle with clogged pores and congestion in the skin, there are better alternatives to picking and squeezing your pores. This is actively discouraged as you can cause visible trauma to the skin and introduce bacteria into the epidermis, resulting in more breakouts, or worse, an infection.
Remove those pesky blackheads and whiteheads with Environ's Ultrasonic Skin Scrubber! This is a great tool for at home facials to mimic the extractions of an esthetician without damaging your skin.
A post shared by Rescue Spa (@rescuespa)
ENVIRON
DERMACONCEPTS ULTRASONIC SKIN SCRUBBER
Utilizing ultrasonic soundwaves, this device loosens dead skin cells and removes build up to help purify the pores.
If you have any questions or need any assistance in finding the best routine for you, please reach out to us at shop@rescuespa.com, chat now, or schedule a time, and one of our knowledgeable experts will happily assist you!
---
Shop Beauty Aficionado: